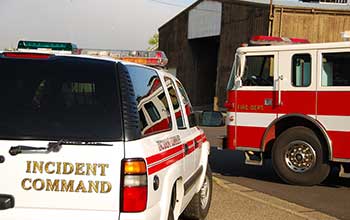 When you want more from a company than just pushing sales, you need to check out American Trade Mark for information and ideas to help protect our local firefighters. We specialize in firefighter accountability systems and are happy to help you gain the information you need to make the very best decision to protect the first responders in your unit.
There are several types of firefighter tracking systems, but they usually can be divided into two basic categories, high-tech, and low-tech.
High-Tech Systems
High-Tech firefighter accountability systems usually use GPS or RFID tags powered by batteries and are embedded into a firefighter's gear. These tags then use the corresponding technology to report back to a computer or serving running specialized software to track the locations of each person. They can also include specific sensors that can transmit other crucial data such as temperature readings and credentials. Some other features of high-tech systems are:
Automatic Location Tracking
Movement Detection
Report Generation
Low-Tech Systems
Low-Tech systems are usually made up of two key components. The accountability tags and clips that are issued to each firefighter and the incident command boards which usually consists of a dry erase surface, an area for strategic & tactical planning, and a section for the accountability tags to be turned in and accounted for. These tags are usually engraved or labeled with names, ranks, and other valuable information unique to each individual. The command boards are typically managed by the chief or commander of each unit or team. Low-Tech systems allow for a broad range of information to be available and can be customized to any given situation.
Pros & Cons
There are pros and cons to both types of firefighter accountability systems. The high-tech programs can keep real-time locations of each firefighter without the need of constant supervision but rely on power sources, and if a GPS or wireless system goes down, they are unusable. These also might not be an option for rural fire departments because of connectivity issues with GPS satellites. The low-tech systems won't have those types of problems but do depend on a chief or unit commander to be in charge of the accountability board, and individual tags can be lost or damaged. Depending on the size, location, and needs of your fire department, either style could benefit your unit.
Contact Us Today
Contact American Trade Mark with any questions or concerns about firefighter accountability systems and let our experts help guide your department to one that fits your needs. Your local firefighters should have the protection they need and deserve, and we want to help you with that.