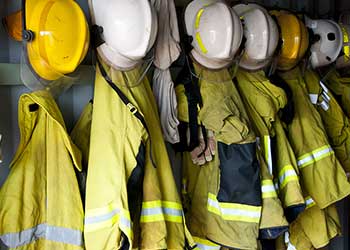 American Trade Mark wants to ensure that every hero gets home safely, which is why we sell top-tier personal protective equipment and accountability tools to fire stations all over the country. However, safety gear is only helpful if your crews are actually using it correctly, so here are some suggestions regarding how to increase compliance.
The Importance Of PPE
Personal protective equipment (PPE) is important because it helps protect firefighters from injury and death when responding to an emergency. PPE includes items like turnout gear, helmets, boots, breathing apparatuses, and more. American Trade Mark offers accountability tools that can help increase firefighter PPE compliance. With these tools, firefighters can be held accountable for their PPE compliance and be sure that they are protected while on the job.
Why Do Firefighters Ignore PPE Requirements?
Surprisingly, the most common reason firefighters ignore proper safety protocols has nothing to do with a lack of knowledge. Nearly every firefighter learns during training that personal protective equipment (PPE) is essential to the job; however, the temptation to brave the flames to save people as quickly as possible can be tempting for even the most knowledgeable members of a crew. Thus, the best way to increase compliance to ensure everyone gets home afterward is to create a culture of accountability that prides itself on safety rather than reckless heroism.
How To Increase PPE Compliance
Establish A Culture That Associates Safety With Heroism
Lead By Example
Require Firefighter ID Tags
Label All PPE
Create Reminder Posters
Practice Gearing Up As Quickly As Possible
Establish A Culture That Associates Safety With Heroism
Many firefighters' first instinct is to act immediately during an emergency—even if it means risking their own personal safety. Some even make the willingness to risk their own life part of their identity and primary source of self-esteem. Other crew members and station employees may even applaud the most dangerous feats of heroism over all others, and this peer pressure encourages unnecessary risk-taking and machoism.
Wearing PPE Is Heroic
Remind crew members that the best way to be heroic when venturing into a burning building is to be equipped with all of the appropriate safety gear—after all, they can't save others if they themselves are dead or injured! If you're looking to create a workplace culture that acknowledges and honors those heroes who value the safety of civilians, themselves, and their fellow crew-mates, American Trade Mark sells custom plaques and awards.
Lead By Example
Firefighters often admire and look up to the leading officers, which is why it's important to always demonstrate the use of PPE when responding to an emergency. When crew members observe their superiors using all of the proper safety equipment, they will feel more compelled to do so as well.
Require ID Tags
Firefighter ID tags are another important part of PPE. These tags can help identify where each crew member is located within a structure as well as document their safe return. American Trade Mark sells custom tags that can be engraved with each crew member's important information.
Label All PPE
Another way of increasing accountability is to label all protective gear with decals to ensure that each piece is accounted for. American Trade Mark offers reflective decals for helmets and other gear, as well as custom labels if you wish to include firefighters' names, serial numbers, and other identifying information.
Create Posters As Reminders
Simple visual reminders can help prevent simple forgetfulness that can occur when the heroic instinct kicks in. Eye-catching and easy-to-read posters can remind firefighters that they are not invulnerable to the dangers of a fire and that, in order to continue saving as many lives as possible, PPE is always necessary.
Practice Gearing Up As Quickly As Possible
Sometimes, an emergency can appear so dire that using all of their personal protective gear can seem like a waste of precious time to firefighters. The faster your crew members are able to gear up, the more likely they will choose to do so, which is why it's important to practice as frequently and quickly as possible and to offer praise to those who do so the fastest.
Firefighter Accountability Tools Nationwide
At American Trade Mark, we are committed to providing accountability tools that save the lives of those who save lives. If you're looking for products that can help increase your crew's PPE compliance, contact us today for more information about how our products can help.