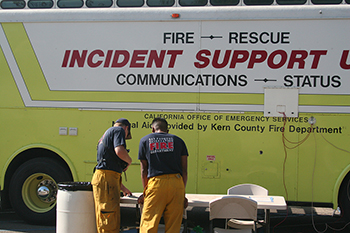 Firefighters put their lives on the line day in and day out, year after year. Can better fireground communications be the missing link in your injury prevention protocols? Explore the trials facing our first responders with tips and tools from American Trade Mark to help reduce accidents and injuries on the fire scene.
Top Firefighter Hazards
Firefighting hazards extend far beyond fiery infernos, smoke inhalation, and building collapses. Depending on your fire department's location, you may be responding to chemical spills, vehicle accidents, riots, and wildfires.
Accident Hazards – ladder falls, explosion injuries, building collapse, and lack of fresh air.
Physical Hazards – flashovers, backdrafts, burns, and cold exposure.
Chemical Hazards – inhalation, burns, or other types of exposure from dangerous chemicals.
Biological Hazards – bloodborne pathogens and contagious disease exposure.
Ergonomic & Psychosocial Hazards – stress, exhaustions, muscle sprain, and bodily strain.
Facing the unexpected for a living means juggling a lot of potential for a variety of dangers. Ladder falls, traffic accidents getting to the fireground, angry or panicking pedestrians – is there a single solution for everything you might fight during a fire call?
Firefighter Communications Tips
While good, clear, practiced communication skills can't solve every problem, prioritizing this critical skill can make a difference. Weather changes, chemical stores are discovered, wildfire paths change.
Firefighting is full of uncertainty and the flexibility to respond to the unexpected. Keeping your crews fluid and adaptable despite the danger is often a matter of getting the right information to the right people.
Emphasize Proper Radio Communications During Training
Make Sure Communication Chains Are Clear & Practiced
Have A Reliable Way To Track Both Firefighters & Incoming Information
Tools For Better Fireground Communications
Incident commanders need a way to quickly record and disperse vital fireground information. At American Trademark, we carry a wide range of incident command boards and firefighter accountability systems. From portable and dry erase boards to passport-compatible case systems for incident command, we want to help you find the communications and tracking tools to make your unique fireground situations safer.
Track, Inform & Keep Everyone Safe
Explore the selection of incident command systems and firefighter ID tags at American Trade Mark today. Place your order or contact us to customize boards, strips, and labels to streamline your fire scene communications. We look forward to hearing from you and helping you reduce the hazards you face.