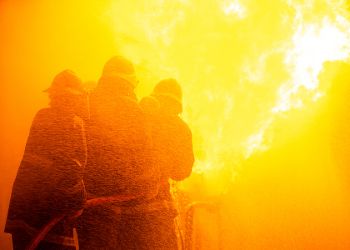 During a time of mask-wearing and social distancing are firefighters really at risk? After all, they wear all that gear and are trained to deal with all sorts of hazards. While fire personnel might not be the first, first responders you think of on the front lines of COVID-19, there are definite reasons to keep foreground communications a priority.
Firefighters often travel from place to place.
They end up living and bunking in close proximity to one another.
After duty, they return home to their families and communities.
Tracking Protects Firefighters On The Go
According to the CDC, "all fire personnel should practice social distancing, wear cloth masks, perform hand hygiene, and disinfect surfaces, objects, or items that are shared with the general public" when they must interact with others. This can be difficult in emergency situations where getting people out or providing critical care is essential.
Firefighters are also always on the move. Whether your department is responding across town, across the state, or across the country it's important to track who responds to every call.
Know When Isolation Is Necessary
Unlike a regular 9 to 5, firefighters often live, sleep, and eat close to one another for days at a time. Tracking firefighters on scene can help you keep them safe off scene as well. The CDC recommends cleaning and disinfecting shared spaces, vehicles, and equipment with EPA-registered disinfectants effective against SARS-CoV-2.
During busy fire seasons when firefighters bunk together for longer periods, it is recommended that new arrivals isolate as much as possible for 14 days. Making sure everyone knows and complies with the safety measures you put in place is easier when communication lines are open and movements are traceable.
Accountability Protects Families, Too
After a long or short call, firefighters return home to their families and communities. Keeping potentially exposed units informed as new COVID cases come to light protects not only you and your department but the lives you touch outside of work too.
Order Command Boards & Accountability Systems Today
At American Trade Mark, we make tracking firefighters and enforcing accountability easy with customizable tags, dry erase command boards, and portable command systems. Contact us today to learn how we can supply your team or customize our products to best serve you during COVID-19. We look forward to helping you keep everyone safe.