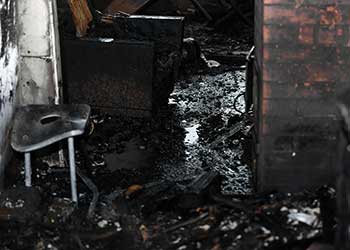 Firefighter Safety is a multi-agency effort, so our New Jersey-based American Trade Mark Company team provides systems and tools to promote safety when working with hazards such as post-fire flooding and debris flow.
Accountability and custom tag systems can help incident commanders stay on top of where their teams are currently deployed while tracking the medical background of each firefighter as necessary. This information becomes vital in a flood or debris flow situation when emergency response personnel may be dispersed over large terrain as they encounter hazards.
Post-Fire Floods Are Hazards To Firefighters
Debris Flow Can Compromise Firefighter Safety
How To Deal With Hazards
Accountability Systems For Firefighter Safety
Why Are Post Fire Floods So Hazardous to Firefighters?
After the fires have burned thousands of acres devoid of vegetation, the rains come and create floods. These rain storms can happen farther up a steep mountain and then generate a deluge of water moving down the slopes toward the sea. The water begins to carry the soil of the mountain with it and can cause an entire mountain to collapse.
Debris Flow Compromises Firefighter Safety
As the flowing water moves through canyons, like in so many instances of California fires, it becomes tens of feet high, moving everything in its path. When trees, car-sized boulders, and utility poles roll downhill caked into the mud, it can become an unstoppable, deadly 25-foot high wall gaining momentum as it goes downslope. This debris flow may begin so far away on a clear sunny day that communities down the canyon are unaware of its destructive path until it is too late and firefighters cannot prepare for its arrival.
Hazards Must Be Swiftly Dealt With
Fires and burn areas often present as their microclimates, then hefty rain tends to follow in the exact denuded acreage where there is no vegetation to hold the soil in place. In California in 1993, LA County Fire Departments worked with soil engineers, geologists, public works officials, U.S. Army Corps of Engineers, and state and federal emergency management agencies to devise training for recognizing potential mud-debris-flow conditions.
The mitigation and rescue plan training included digging ditches and placing sandbags ahead of downpours. First responders must also be mindful that the initial wave of mud will likely be followed downslope by larger debris waves. Additionally, firefighters should position a spotter upstream to alert others of landslides or debris waves, while the team should establish a clear escape route.
Keep Your Crew Safe
Protect your crew and your department by implementing our firefighter accountability system. Access important data about the exact number of firefighters working at an incident at any given moment with our incident command systems. This system provides crucial information about the equipment that transported each crew member to the incident and the crew member's allergies and medical alerts. Use our complimentary firefighter accountability tags for each of your firefighters, who will hand off that tag to a Safety Officer upon arriving on the scene with that firefighter's vital stats.
Visit Our Website Today For Nationwide Support
New Jersey-based American Trade Mark Company supports first responders nationwide. Let us provide your department with tools for safety during post-fire flooding and debris flows with fire equipment tags, decals, and our firefighter accountability tracking boards. This system helps you make decisions quickly and confidently with firefighter safety in mind. Visit our website or call today for a quote.