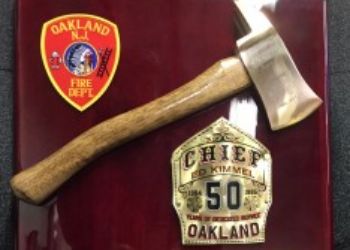 At American Trade Mark, we can create custom fire department plaques to honor any occasion you have in mind. Whether you have a Chief celebrating 50 plus years of service, a bowling league champion, or a rookie who earned top responder of the year, our firefighter plaques can be customized for any occasion.
Create Your Fire Department Plaque
Being a first responder is one of the hardest and most rewarding careers one can choose. Firefighters put their lives on the line to save others in their time of need. If your fire department has a team member who has gone above and beyond or who has served for 20, 30, or 50 years, give them something to honor and recognize their sacrifice. Throughout the years, we've created a variety of custom firefighter plaques to commemorate retirement, honor achievements, and even some that were sure to add a bit of humor to the annual awards ceremony.
Honoring The Service Of A First Responder
If your husband, wife, or any other member of your family is a firefighter or first responder, give them a custom plaque to show your appreciation for their service to your family and the community. There are a variety of occasions where a custom plaque would make a perfect gift.
Retirement
Achievements
Fire Department Awards
Top Responder
Humorous Awards
Dedication Ceremonies
Plaques That Say What You Want
Our custom fire department plaques come in all shapes and sizes for every occasion. The Life Member who has served with your volunteer fire department for 75 years deserves to have a loving reminder of his selfless sacrifice and how much it is appreciated by family and community alike. We can even create a custom plaque for the winner of your department bowling league or company softball game. The options are endless; if you can think it up, we can create it.
Custom Fire Department Plaques
With custom fire department plaques by American Trade Mark, you can honor those who have served their communities in a heartfelt, meaningful way. Thank your top responder or seasoned fire chief with a special gift and let them know how much their efforts are appreciated. Contact us today for more information on ordering one of our custom plaques.