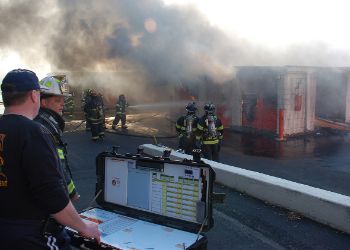 Is your community adding a mobile command center to your emergency services garage? What do you need to outfit it so it will always be ready for the next major incident? American Trade Mark Co. offers these quick tips as you create your orders and budget.
A Mobile Command Vehicle Sized For Your Needs
Communication
Asset Organization
Storage For Extra Equipment
Space To Coordinate And Confer
Food & Water For The Long Haul
Bunks To Recharge
Selecting Your Mobile Command Vehicle
Choose your RV or off-road SUV based on your service area, accessible roads, population density, and most common problems. Ski country requires a 4X4 capable command center, while cities have plenty of space for a bus.
Power & Devices For Communication
Not all your crews will arrive with their radios. Add a rack of hand-held units compatible with your region's frequencies to maintain rapid and accurate communication in the field. Add extra fuel cans to keep the onboard generator running for quick recharging throughout the crisis.
Asset Organization Tools & Tech
Add a supply of accountability tags and an incident command board. This allows your chief to track the number of personnel on the ground, their abilities, and which equipment is deployed in which sector.
Storage For Extra Equipment
What item does your emergency crews always need to be refilled during major incidents? Basement storage areas on big rigs can haul extra air tanks, turn-out coats, dry clothing, first aid supplies, and blankets.
Prepare For Press Conferences
Stock folding chairs, tables, and whiteboards, and invite all the services to sit down and create a plan of attack. Pop-up tents expand your work zones out of the sight of the media and provide shelter for tired crews.
Fueling Your Crews
The motorhome you fit into a command center likely has a small kitchen. Fill the fridge with protein bars, bottled water, and pre-pack meals. Leave the perishables for your mobile kitchen to arrive.
Keeping Your People Powered Up
Exhausted crews are less effective. By adding bunk beds in the back of the command center, there is always a warm and dry space for the first responders to recharge after reinforcements arrive.
Expand Your Research Before Buying
Finally, take some time to explore all the resources available at American Trade Mark Co. Work with your fire, police, and safety departments to help create a mobile command center that fully meets the needs of your community.