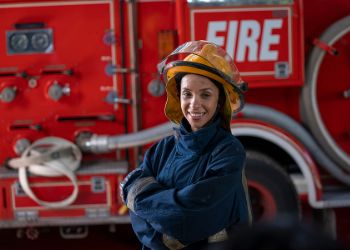 Being a first responder is a challenging job, but many firefighters wouldn't trade it for any other occupation. Although saving lives comes with its own rewards, you can honor the men and women that make up your department with firefighter plaques that testify to their dedication. At American Trade Mark Co., we design and create tributes to your retired, fallen, and dedicated crew. You can even create humorous plaques that lighten the mood and boost morale.
1. Retirement Plaques Mark an Exemplary Service Career
Whether a firefighter has spent their entire career in a firehouse or changed paths to a life of service, they deserve a retirement plaque to honor their contribution. Send your firefighters off with a beautiful retirement plaque. You can personalize each plaque with the desired font, message, and graphic. Get creative and ask coworkers for input on recognizing a retiree's hard work and tireless efforts over the years.
Favorite quotes or songs can also make the gift even more heartfelt. We can help you fabricate a unique plaque that will beautify a living room or home office wall.
2. Memorial Plaques Honor Fallen Heroes
In 2021 alone, more than 70 firefighters gave their lives fighting to save others. How can you honor the men and women who put their lives on the line every day? This type of custom plaque should include elements such as:
Years of service (dates or number of years)
An image of firemen at work or photo of the fallen firefighter
A meaningful service synopsis, "John Doe gave his all for others every day. Never forgotten."
Their fire department information.
3. A Fire Department Award Boosts Morale
Create an atmosphere of recognition and appreciation with fire department awards. Start by honoring trainees who pass difficult tests to pursue their dream of becoming a firefighter. Then, recognize crew members who show courage and steadfastness in a crisis, such as a natural disaster or severe fire event. Don't forget your support staff. Everyone is essential, from the mechanic to the cook to volunteers. Make sure they know it with an occasional ceremony to present a fire department award.
4. Humorous Awards Keep It Light and Fun
If you want to retain or improve morale, humorous awards are the way to go. Conduct a teambuilding exercise where firefighters choose funny ways to honor one another.
Potential "awards" that are good for a laugh:
Most likely to be mistaken for a Dalmatian.
Worst cook in the history of firefighting.
Most likely to drown out a siren when they speak.
Most likely to leave their gear in the firetruck.
Top Firefighter Plaques for Every Occasion
With custom fire department plaques, you can put your gratitude in words and create a lasting memorial to those who've achieved career milestones. American Trade Mark Co. can help you design a gift for a beloved fire chief or brave firefighter who answers the call to service time after time.
Contact us today to begin the ordering process for a custom plaque.