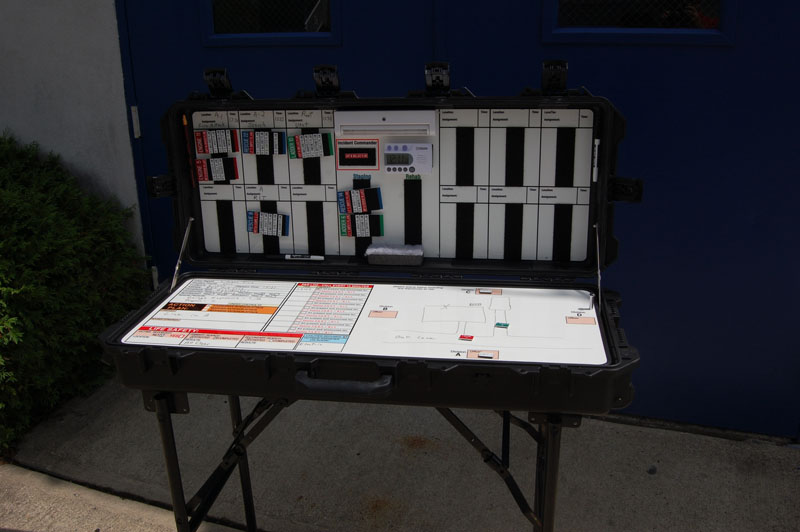 American Trade Mark is a leader in firefighter passport accountability systems (PAS) and supporting products. We have the knowledge and experience to assist in the safety and organization of firefighters. Whether you are looking for incident command boards, velcro name tags, or name tag collectors, we have the tools you need to implement a passport style system in your fire department.
Tags, Collectors, Storage & Boards
We carry a variety of fire scene proven products to protect you and your department. Some of our passport style accountability products include:
Our passport style velcro name strips are designed for easy removal and exchange with incident command. The passport apparatus collector helps you identify which man is assigned to which apparatus at a glance. The passport edition of our popular Case Commander™ System includes areas to collect firefighter passports and notate their assignments. The firefighter passport tag storage box protects your tags when not in use.
Implementing Firefighter Passport Accountability
PAS tags for firefighters keep track of each person and what their assignment is when on-scene. Equipment tags are also helpful and reduce the number of lost items when loading up after a call. Organization is key to maintaining equipment and personnel in an emergency situation and helps to keep our firefighters safe.
Each part of our accountability systems is thoughtfully produced to the highest standards and customizable to meet your unique needs.
Get In Touch For A Custom Quote
You can count on American Trade Mark to provide you with fire scene proven firefighter passport accountability systems for your department. We pride ourselves on supplying you with the gear you need to keep track of your firefighting personnel. Contact us with any question, or to place an order for your accountability system today.