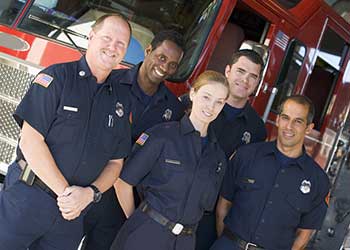 When it's time for a firefighter to retire, how do you say thank you for a lifetime of service in a way that will last and be remembered for years to come? Whether it's a chief or a team member, we understand that you want your symbol of appreciation to honor selflessness, bravery, and dedication.
It may sound like a tall order, but we've put together 5 firefighter retirement gift ideas to celebrate and award your exceptional first responder in style.
Personalized Firefighter Hatchet Plaques
Engraved Acrylic Awards
1. Fire Chief Retirement Plaques
You're looking for a retirement gift worthy of a fire chief. Odds are, from firefighter to lieutenant to captain to chief, your department has years if not decades of thank-you's to say. That means not just any plaque will do.
You don't have to settle for a one-size-fits-all option. We can make your engraved gift just as unique as the individual you hope to honor.
A Variety Of Wood Bases — Walnut, Piano Finished Rosewood & Ebony
Information Plate Options — Silver, Brass, Aluminum, Glass, Or Plastic
Custom Medallions & Logos
Custom Shapes & Sizes — Round, Rectangle, Maltese Cross
Scalloped Edge Options
2. Custom Firefighter Hatchet Plaques
In addition to custom engraved information plates and personalized medallions, why not add a firefighter hatchet to your custom firefighter plaques for real impact? Engraved hatchets, gold hatchets, even double hatchets can be incorporated into your retirement plaque.
3. Acrylic First Responder Awards
If you're looking for a firefighter retirement gift that can be displayed on a desk or special shelf, consider an acrylic award. We specialize in rotary, diamond, and laser etching for a clean, professional look every time. Select an elegant beveled edge, unique shape, or beautiful faceting.
4. Custom Printed Car Plates
No list of firefighter appreciation gifts would be complete without custom-printed car plates. Our durable .032″ Aluminum plates have a white Scotchlite™ reflective surface. All colors are available, and we can provide you with complete custom art and design services.
Choose from top or bottom hole orientations, depending on whether you want to install your plates above or below license plates. These plates can be created for use on cars, trucks, motorcycles — or to hang on a wall.
5. Fire Department Gold Member Cards
While shopping for firefighter retirement gifts, we invite you to consider gold members' cards. Printed on brass, these engraved cards come in a clear protective sleeve for a portable way to commemorate service and designate honorary lifetime members of your department.
Order Firefighter Retirement Gifts
For more information on our customization options and to place your order, contact us at American Trade Mark today. We look forward to helping you design a one-of-a-kind way to honor your retiring firefighters.