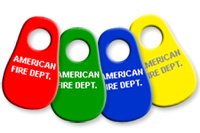 American Trade Mark provides multiple custom engraving and color options for our accountability tags. These tags are an essential component of all incident command or emergency response team. Color coding and engraving options can be used to differentiate commanders, chiefs, interior firefighters, probies, and medics. They can be used to identify specific fire companies and departments within a mutual aid group as well. Whatever your fire department accountability tag needs, we can accommodate.
Economy Number Only Accountability Tags
Our number only tag options are engraved on both sides with white numbers. Up to 3 digits come included, and an add-on option of a 4th digit is also available when ordering. They are engraved on durable hard plastic and are available in various colors and formats. These are excellent options for smaller or rural fire departments and can be attached to firefighter gear with our deluxe clips addon. Solid color options available for these tags include:
Red
Blue
Green
Black
White
Custom Accountability Tags
American Trade Mark provides high-quality multiple line engraving and color combinations with our custom tags. The front of the tag can include name and department, and the back can list any important specific to the individual medical information. Up to ten lines of text can be engraved on each tag, so it allows your unit to have all the information that it needs. Pricing varies with the amount ordered and bulk pricing includes discounts. They are engraved with white text unless noted in our color options:
Red
Blue
Orange
Yellow
Brown
Green
Gray
Black
Light blue
Bright green
Black with yellow letters
White with black letters
Yellow with black letters
Combined With Our Accountability Systems
The use of these accountability tags combined with our firefighter accountability systems is a highly efficient way to track your company or team in incident response. When your unit responds to an emergency, knowing who is where, how many are involved and who has medical concerns allows for efficiency and effective management, and allows you to protect the citizens in your community that much better. Firefighter's families can also rest a bit easier knowing everyone is accounted for with a better individual tracking system.
Our Guarantee To You
All of our accountability tags are guaranteed against breakage for 10 years. At American Trade Mark, we stand by our work. By ordering your accountability tags with us, you will always have multiple color and engraving options, bulk order pricing, and our complete guarantee. In a fire emergency, time and safety are the most crucial elements. When you have easily identifiable and durable tags for your emergency response unit, they can focus on saving lives and protecting families. For more information contact American Trade Mark today.