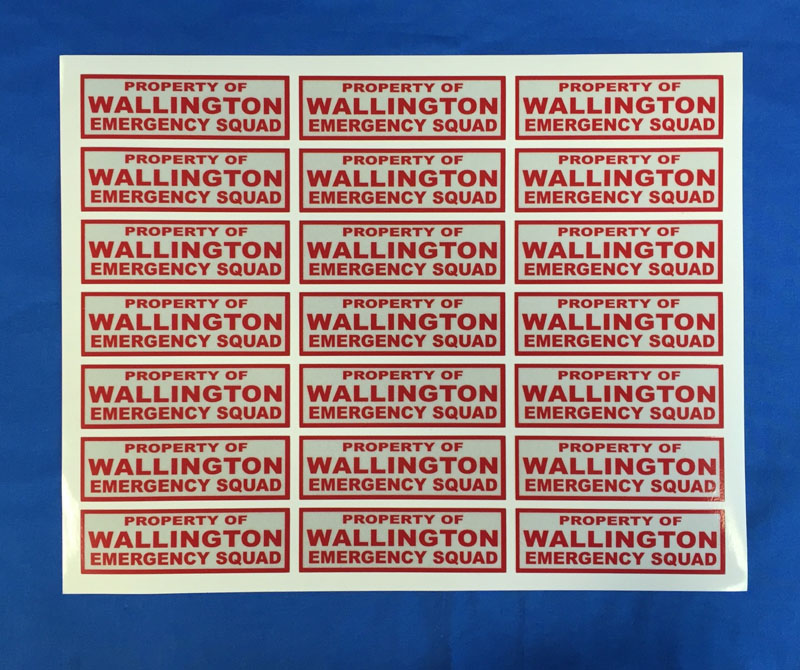 American Trade Mark Co. is a leading manufacturer of firefighter equipment marker decals. Firefighter safety is dependent on easy identification in emergency situations.  We work with fire departments across the United States to create custom reflective stickers, signs, and plaques for use on fire apparatus, firefighter PPE, tools, and fire stations.
Browse Equipment Marker Decals
Reflective Decals For Firefighters
Make sure you and your firefighters are protected – choose the most visible reflective decals for firefighters available on the market. American Trade Mark Co. manufacturers reflective stickers for firefighter personal protective equipment, using the highest grade of Scotchlite™ vinyl. We offer first responder helmet crescents, which can be personalized with your name and rank, as well as helmet tetrahedrons that can be customized with any color or design. Our fire and EMS helmet fronts are also customizable and adhere to any surface.
American Trade Mark Co. offers extra durable laminates for SCBA reflective stickers. We understand that your air packs and cylinders are exposed to tough working conditions, and we have designed a solution that will ensure the reflective decals on your personal protective equipment withstand the elements. American Trade Mark Co. reflective products give you peace of mind that you will be seen on the fire ground and at night rescues, car accident responses, and other low light situations.
Equipment Marker Decals for Fire Apparatus and Tools
Easily locating and assessing your resources is imperative during an emergency. American Trade Mark Co. manufacturers custom decals and signage for fire apparatus, firefighting equipment, hand tools, and tool boxes. We print our decals with specially coated inks on a durable reflective material to create clear identifiers that will stand the test of time.
Our team of graphics professionals will help you select a design that best meets your career or volunteer fire department's requirements. Choose any combination of reflective letters and numbers to designate your agency's emergency vehicles or tools. We offer custom backgrounds and can create graphics and stickers of any size. If your fire department wants to maintain a classic look, American Trade Mark Co. provides reflective gold leaf lettering for fire trucks, engines, and rescues.
Custom Tribute Decals for Firefighters
Honoring the fallen is an important tradition in the fire service. Our talented designers will work with you to create meaningful tribute decals. Whether you desire small helmet tetrahedron decals or a full fire apparatus mural, we will create vinyl graphics that pay homage to those who have made the ultimate sacrifice.
Custom Reflective Signs For the Fire Service
American Trade Mark Co. creates safety signs for fire ground equipment and fire stations. We manufacture professional, easy-to-read signs that can be seen from long distances. Whether you are looking for reflective signs for your personnel accountability systems or you need signage for your fire station, we have solutions that will meet your needs. American Trade Mark Co. signs are available in Scotchlite™ reflective and non-reflective vinyl, as well as engraved plastic.
Fire Department Plaques
We know that commemorating special achievements or remembering heroes who have passed is important to your fire department, and American Trade Mark Co. is proud to offer custom plaques and awards. We individually create each piece using computerized machine engraving, laser engraving or sublimation printing on metal, depending on your requirements. We offer a wide selection of plaque sizes and materials, and we have the capability to include your agency's custom logo in your design.
Commission Your Custom Decal or Sign Today
American Trade Mark Co. makes ordering your custom firefighter decals and signs easy. Our graphic designers can consult with you over the phone, or you can upload your logos and instructions online. Whether you have a specific design in mind, or you prefer to have us develop your concept, we will assist you in creating beautiful firefighter decals, signs, and plaques. American Trademark Co. is proud to offer firefighters and fire departments affordable pricing and flexible payment options, as well as quick turn-around times.
Call us today or request a quote online, and begin the process of designing your custom sign, sticker, apparatus decal or plaque.