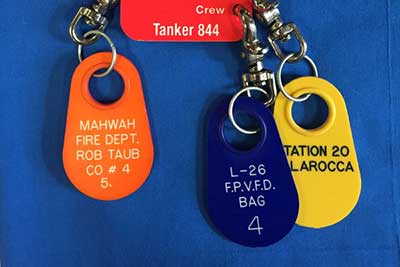 American Trade Mark offers custom imprinting for firefighters and other emergency medical services. We've been serving the firefighter and EMS communities for long enough to know that having critical details and valuable information available can make a huge difference when it comes to accountability and safety. That's why we provide custom imprinting on multiple types of markers and tags. We even have complete design and art services available as well.
Decals & Equipment Markers
Mark and tag your unit's gear with our Custom Equipment Markers and Decals. They are available in any shape or size and can be printed on reflective white or plain vinyl. With digital printing, we can create a combination of pertinent information and customized graphics. You can choose from a variety of color options for your wording including red, blue, yellow, green, and more. Ask us about our multiple sheet discount prices and extra durability options.
Accountability Tags
Our custom accountability tags are available in ten different color combinations on a durable plastic material that is guaranteed against breakage for ten years. Various imprinted font formats and up to 10 lines of text can be included. Front and back engraving is also available with an included medical warning as needed. Check out the rest of our accountability collection, which includes truck rings and stands for on-site and office references.
Name Strips
Custom imprinting is also available on our name strips. Usually, these are used name identifiers for firefighters but can include radio call signs, ranks, or anything else that fits. They are 3/8″ by 2″ in length, and 11 different color options are available. Magnetic and velcro options are available for the backing. Most responders receive between 3-4 velcro name strips so that tracking can be made by more than one Commanding Officer.
Car Plates
At American Trade Mark, we offer complete art and design services with custom sizes for all your car plate needs. Our custom imprinted plates come in most any color including pink and purple. All plate options are durable, printed on aluminum, and have a reflective surface for maximum visibility and are easy to mount.
Stay Safer With Custom Imprinting
Here at American Trade Mark, we take safety seriously. Our custom imprinting options for decals, stickers, name strips, plates, tags, and more allow you to have the right information available at all times. Whether you're a firefighter, EMS responder, or serving under any other public safety organization, we want to help you. Contact us today for all your custom imprinted or engraved design needs!