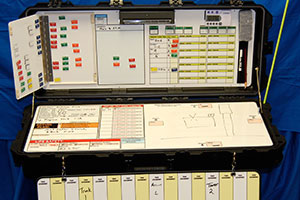 At American Trade Mark, our magnetic and dry erase command boards can streamline and improve your overall emergency response system. Every Incident Commander knows the importance of quickly being able to assess the situation while also coordinating crew members to specific locations and further keeping track of how long responders have been on the scene. Magnetic accountability boards and nametags are the best way to keep track of teams and tools. We offer unique and custom manufactured dry erase and magnetic command boards for teams both large and small.
Keep Track Of Crew With Magnetic & Dry Erase Command Boards
Our dry erase incident command boards include engraved magnetic pieces, each representing your crew members and apparatus. The incident commander places these magnets on the board to effectively track the assignments of team members on the scene. Each board features a dry erase surface printed with a custom created Incident Command worksheet. Learn how easy it can be to keep track of your crew with our magnetic dry erase command boards.
Custom Magnetic Command Boards & Passport Tags
American Trade Mark knows the importance of having a well-organized command board. We can help you create a cohesive crew that can handle any emergency scene. Magnetic dry erase incident command boards are the easiest and quickest way to make sure all firefighters and first responders are properly accounted for. Our incident command boards feature magnetic tags and dry erase boards, each in different sizes depending on your crew. Some options to choose from would include:
Get The Best Equipment For Your First Responders
American Trade Mark can help your teams Incident Commander to keep organized quickly with magnetic dry erase command boards. Whether you're in need of keeping track of assignments, personnel, and equipment through the National Incident Management System, Passport System, and Accountability Tags, in the office, Incident Commander Vehicle, or on the scene, we've got your back. Check out our catalog to see all of our safety response instruments available and call us today to find out more about custom creating your brand new dry erase magnetic command board for your emergency response teams.