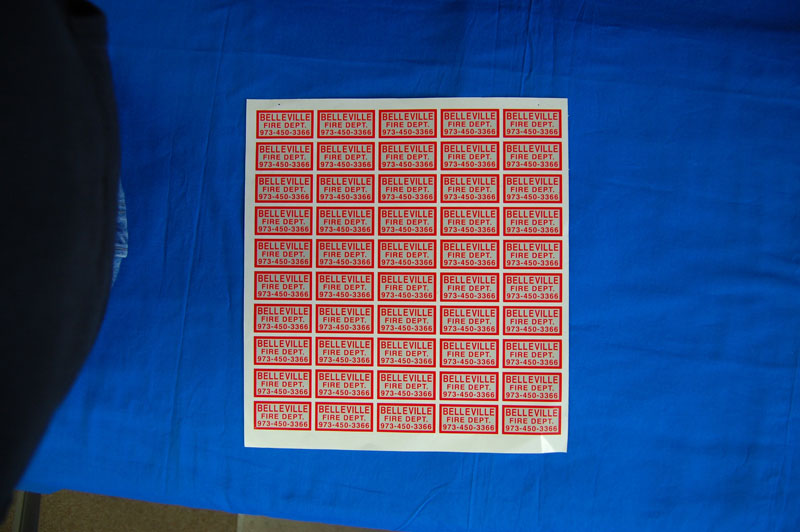 At American Trade Mark we understand the importance of using quality labels for firefighter gear. We carry high-quality, high-visibility labels for firefighting gear and equipment. These decals are make collecting all the fire gear after a call easier. When more than one department is on that call with all of their gear too, these equipment decals can help get the right gear to the right person and make each person's tools, tanks, and air packs easily identifiable. We can customize your fire department equipment labels to your specifications.
Labels To Organize Firefighter Equipment
Reflective firefighter equipment labels benefit the department and its men. These fire gear labels are in a heavy duty sticker form with a clear coat option to make them less susceptible to UV rays and abrasion. They are easily applied to hard surfaced equipment. Recognize your air tanks, tools, helmets, boots, and many other items by just glancing at the easy-to-see reflective fire equipment sticker.
Decals For Fire Departments
Easy to see reflective decals for fire equipment can help especially when multiple fire departments are on the same scene. They are an easy way to make sure your department's items are returned to their storage places. Our fire equipment stickers are durable and can be custom designed with apparatus numbers, serial numbers or firefighter's names to meet your needs. Other benefits of our firefighter equipment labels include:
Reflective properties
Highly visible
Customizable
Durable
Weatherproof
These adhesive labels are all created with a firefighter's lifestyle in mind. They are very durable and weatherproof. Knowing what this gear and equipment is put through on a daily basis requires that any decals, labels, stickers, or markers used on firefighting equipment be able to stand the daily trials of firefighting.
Label Your Firefighter Gear Today
We at American Trade Mark know what it takes to be a firefighter and design our firefighting equipment labels to keep up with your department. Contact us to submit your design or get a quote today.