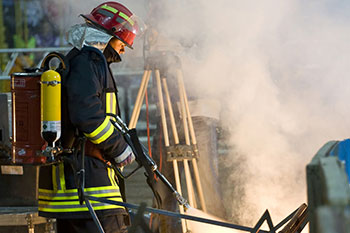 Explore custom firefighter accountability tags by American Trade Mark Co. The site of a fire can quickly become chaotic and complex, so it is essential that your fire department has fire scene accountability tracking. This basic organizational accountability system for tracking and protecting your firefighters can be supplemented and enhanced by tools supplied by American Trade Mark. Firefighters who arrive first on the scene often must make immediate entry before command officers arrive, and it is critical to know who they are and where they are at any time.
Accountability System Goals
The principle importance of a Fire Scene Accountability System is to track the number of firefighters in the interior of any structure involved in a fire which poses an immediate threat to their life or health. Fire crew integrity forms a crucial part of the foundation of your system, along with effective incident command by an Accountability Officer or Incident Commander to administer assignments, track their movements and activities, and ascertain if anyone is missing and if so, who is.
Tracking Firefighters
An essential part of your Fire Scene Accountability System involves the use of tags, charts, and other products to aid in tracking team and individual firefighters' assignments and activities. Just some of the innovative products offered by American Trade Mark to help you organize and monitor your fire scene include:
Name tags for firefighters are essential in identifying each firefighter. Our name tags can be attached by Velcro to the shield on their helmet. Attached to the helmet above the visor, our reflective decals assist in locating a firefighter in the low visibility conditions of a fire. Our firefighter truck rings are similar to a key ring, which can be attached to our engine identification number tag and passport accountability tags for firefighters entering the scene. If there is more than one crew, the tags for each crew can be separated by additional crew tags.
Our passport style tags are engraved with your fire department member's name, and possibly their photo, and is issued to each member to serve as their "passport" to the incident scene. They can be color-coded to differentiate between Chief Officers, Company Officers, Firefighters, Sergeants, Recruits and other support personnel. Upon arrival at the fire scene and before entering the burning structure, the firefighter attaches his or her tag to a Firefighter Truck Ring or Incident Command Board. It is then retrieved when the firefighter exits the scene. Any remaining tags indicate who is missing and still within the structure.
Fire Scene Command Board Systems
Our incident command boards assist the Fire Scene Accountability Officer in making sure their team has checked into the accountability system, tracking what and where each firefighter's assignment is, and when they enter and exit the scene. Like truck rings, our firefighters' passport-style accountability tags can be attached to the board upon entry and removed upon exit from the fire scene.
Keep Your Team Accounted For
American Trade Mark can provide you with everything you need to implement the specific needs and goals of your fire department's fire scene accountability tracking system to keep your fire crew safe and accounted for. Contact us today to place your order or ask any questions you have about our system.