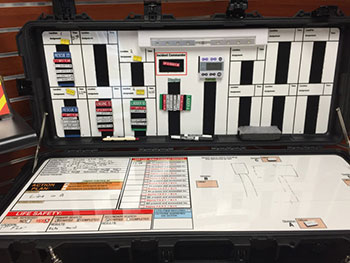 To meet the needs of your specific fire department, at American Trade Mark we offer custom command boards. We know that incidents can range greatly in size and safety. We offer customizable accountability solutions so you can keep information about your men, apparatus, and scene right at your fingertips.
Our Boards, Your Customizations
Our popular incident command boards and systems are available in many varieties. Whether you are looking for National Incident Management System capability, a board to compliment the Passport Accountability System, or something completely different, we have the setup for you. Better yet, all of our options are customizable. Start with any of the following available boards:
Case Commander™ Incident System
Case Commander™ Incident System – Passport Edition
Dashboard™ Commander Incident Command System
K.I.S.S. Commander™ Command System
RIT Commander™
Flex Commander™
Available Custom Options
You don't just want a first responder accountability board. You want a system that works for you, again and again. Have you ever thought you could build a better command board or one more suitable for your team? Now's your chance. Depending on the board you choose, we offer a range of custom options including the following:
Command Board Color Choice
Custom Incident Board Layouts
Additional Accountability Tag Storage Boxes
Additional Accountability Tags
Custom Engraving
Waterproof Flex Sheet Mounting
RIC, FAST, RIT Terminology
Collections Rings Or Velcro For Passports
One Of A Kind Boards To Protect Your Firefighters
Do you need fire suppression or EMS layouts? Maybe you need a combination or something completely custom. We have small command boards that mount inside or your vehicle for portability. We also have reversible boards with space to sketch on the back for quick strategy planning and information gathering. Whatever the size of your department or scene, we have solutions big and small with just what you need to know to get the job done and keep your firefighters safe.
Get The Information You Want, Right Where You Need It
At American Trade Mark, our priority is getting you the tools you need for efficient firefighter accountability tracking. Custom firefighter accountability systems optimize our existing command board systems to work even better for you. Contact us today to design your custom command board.