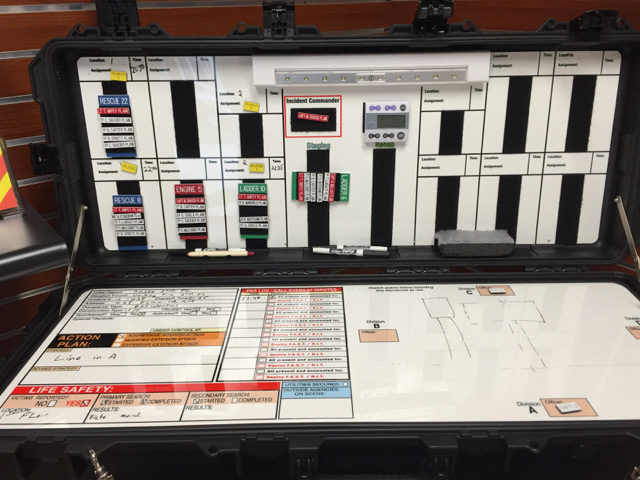 Safeguard your firefighters with a Velcro accountability board offered by American Trade Mark. This important part of a highly effective fire department incident management system streamlines keeping track of firefighters and resources. Unlike other incident command boards, a Velcro accountability board seamlessly integrates with PAS, your passport style accountability system.
Why Use An Accountability System?
The National Fire Protection Association (NFPA) has mandated that fire departments in the United States use an accountability system for incident management. In many states, it has become state law as well. In the past, command officers have used memory alone to keep track of company assignments, but the tragic loss of an increasing number of firefighters in recent years has emphasized the need for a more comprehensive system including items like fire scene command boards and accountability tags for firefighters.
Advantages Of A Velcro Accountability System
The scene of a catastrophe can quickly become chaotic and increasingly complicated and require that assignments and locations must be written down immediately and tracked, not just committed to memory. While many accountability systems are available, one of the most effective and easy to use has been the "passport system" or "Seattle system".
This Velcro firefighter accountability system is an easy-to-use low-tech system that relies on Velcro-backed name tags for each firefighter to track them by apparatus and inside burning structures. Because of its effectiveness, ease of use and affordability, this system has gained popularity since it was introduced in Seattle and is currently in use in fire departments across the country.
How Velcro Accountability Boards Work
Our Mobile Case Commander Incident Command System main board not only allows the Incident Commander to track tasks and locations of crews but also includes an area for worksheets and for sketching the scene and other tasks. Choosing Velcro firefighter accountability supplies shouldn't be difficult. Some of our most popular Velcro accountability system supplies include the following:
The top board included in the Passport Edition allows for the collection of team passports with write-in areas for assignments. Attached to each responder's helmet are three passport style Velcro passport name strips, one of which is attached to the apparatus passport collector.
Tracking Firefighters On Scene
Upon arrival at the scene, the officer hands their passport name strip to the Incident Commander, who then record the crew's assignment on the Velcro accountability board. Upon exiting the scene, the firefighter retrieves his or her tag from the board. The tag storage box is mounted under the bottom board to collect the tags when not in use. Any Velcro tags remaining on the board signal to the Incident Commander that a firefighter is missing and needs immediate assistance.
Protect Your Firefighters Today
American Trade Mark offers the most comprehensive Velcro accountability boards available. We can design your board to meet your specific department needs. Contact us today to place your order.