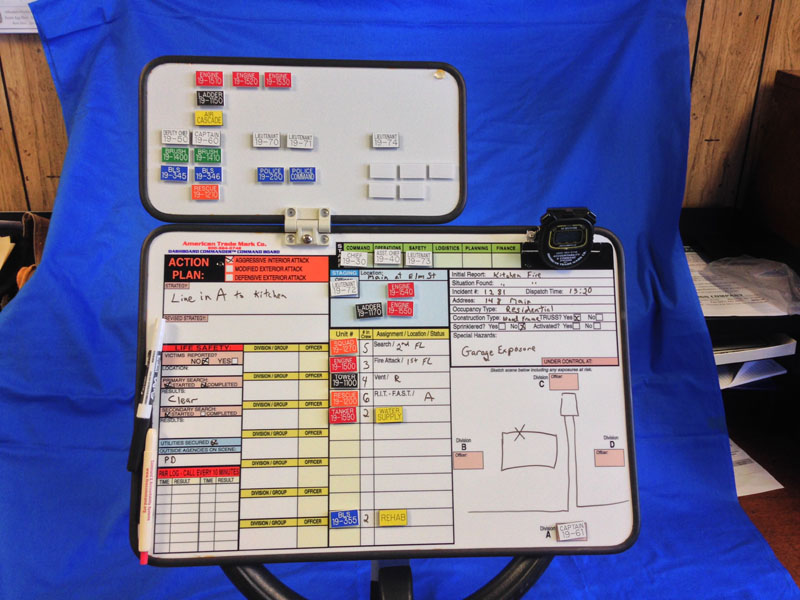 Having robust Incident Command Systems saves firefighters' and EMTs' lives by promoting personnel accountability and organized emergency management. For over a decade, American Trade Mark Co. has provided fire and EMS departments across the United States with Incident Command and Accountability Systems that protect first responders and streamline fire ground operations.
Browse Incident Command Boards
Why Are Incident Command Systems So Important?
Every fire department or Emergency Medical Services team has an Incident Command System outlined in its Standard Operating Guidelines. Unfortunately, some agencies have difficulties implementing them due to culture, budget restrictions, or lack of resources. Each year the National Institute for Occupational Health and Safety reports failures in Incident Command Systems as contributing factors to many first responder line of duty deaths. At American Trade Mark Co., it is our mission to help fire and EMS departments prevent LOD's and injuries by providing easy-to-use, affordable tools that support your Incident Command System.
Incident Command Systems To Help You Easily Manage Emergencies
American Trade Mark Co. manufacturers the Case Commander™ Incident Command System, an emergency management tool preferred by fire and EMS departments across the nation. This heavy-duty mobile command post allows you to position yourself anywhere. The Case Commander™ is simple to use and allows you to track your personnel and fire apparatus assignments, according to the National Incident Management System. Its spacious dry erase area can be used for layouts, strategic planning, size-up notes, assignments, personnel accountability reporting, and special hazards.
The Case Commander™ Incident Command System comes with 50 color-coded magnetic tags. They are customized to represent your trucks, engines, rescues, ambulances, and mutual aid resources, as well as the radio designations for your officers and crew members. It also has a clock and alarm to track incident times and aid in PAR reporting. The Case Commander™ Incident Command System is versatile and can be used for emergencies of any size.
Incident Command Boards to Fit Any Need
American Trade Mark Co. also offers a wide-variety of Incident Command Boards to fit specific needs. Our Dashboard Commander was designed for Fire Chiefs who prefer to use the front seat of the command vehicle to manage incidents. This steering-wheel-mounted board allows officers to monitor resources, assess fire ground conditions, and make tactical decisions in the comfort of your command center. Our RIT Commander™ Tactical Accountability Board was created to allow Rapid Intervention Team Leaders to easily track operations during a firefighter rescue.
American Trade Mark Co. also offers firefighter status boards of varying complexities. Our Deluxe Accountability Boards are designed to help Safety Officers track crew assignments, record SCBA times, and monitor the use of firefighter PPE. Our K.I.S.S. Commander hands-free incident command board is perfect for small emergencies, with compact areas to record team assignments, PAR, and Mayday L.U.N.A.R. information. Most American Trade Mark Co. incident command boards come with stopwatches, and all of our solutions come with dry erase supplies and are fully N.I.M.S. compliant.
Who Uses Our Incident Command Systems?
Fire Departments and EMS crews of all sizes trust American Trade Mark Co. for their Incident Command solutions. Leaders from career, volunteer and combination departments have helped us to design our incident command systems. Agencies throughout the United States rely on our tools to help bring their firefighters and EMS personnel home safely each day. Whether you are a Safety Officer, Fire Chief or Purchasing Agent, you can rest assured that you are getting the best equipment to protect the lives of your first responders.
Let Us Help You Select the Incident Command System that is Right for Your Fire Department
At American Trade Mark Co., we understand that each fire department and EMS agency is unique and has its own Standard Operating Guidelines and requirements. Our team of fire safety professionals will analyze your SOG and work with you to select an incident command system that meets all of your needs. We know that fire departments across the United States face budget restrictions, and we are committed to providing you with an affordable incident command system and flexible payment options.
Ensure the success of your officers and protect the safety of your firefighters – call American Trade Mark Co. or request an Incident Command System quote online today.