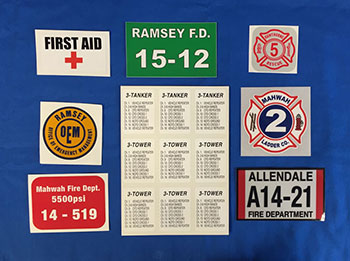 Custom reflective stickers for fire departments are necessary to quickly indicate to crews, safety command officers, EMS responders, and even bystanders that official and professional help is on the scene. Having served and outfitted firefighters nationwide for as long as American Trade Mark, we're the top firefighter accountability equipment wholesaler in the United States.
Upgrade Ease Of Accountability Measures With Custom Decals
At American Trade Mark, we choose only the most durable and commercial strength brands specific to fire departments and other related emergency government or private response team services. Organizing first aid kits and various apparatus equipment by adding clearly visible serial numbers can help your firefighter crews and office teams easily account for all of their individual equipment pieces. Different types of custom equipment markers and decals would be useful for organizing:
Apparatus numbers
Serial numbers
Firefighter Names & Rosters
Town Seals & Symbols
First Aid Markers
Digital Printing Creates Limitless Design Options
Our custom equipment reflective stickers and decals can be printed on plain vinyl or extra durable materials such as Scotchlite, which is laminated for extra life expectancy to protect from abrasion and UV damage. You can choose from every color including brown, pink, black and more. When you order stickers through American Trade Mark, you'll receive design tips, and we'll work with your logo, art specifications, or special requests.
Call Us Today For Your Custom Order
When you order custom reflective stickers for your fire department from American Trade Mark, you'll know that you are getting the real deal in professional quality and durability. Our decals, stickers, and other firefighter accountability products are the finest in the industry. Check out our catalog or call us today for your custom orders. We're here to help make safety accountability easier so that your team remains accounted for.