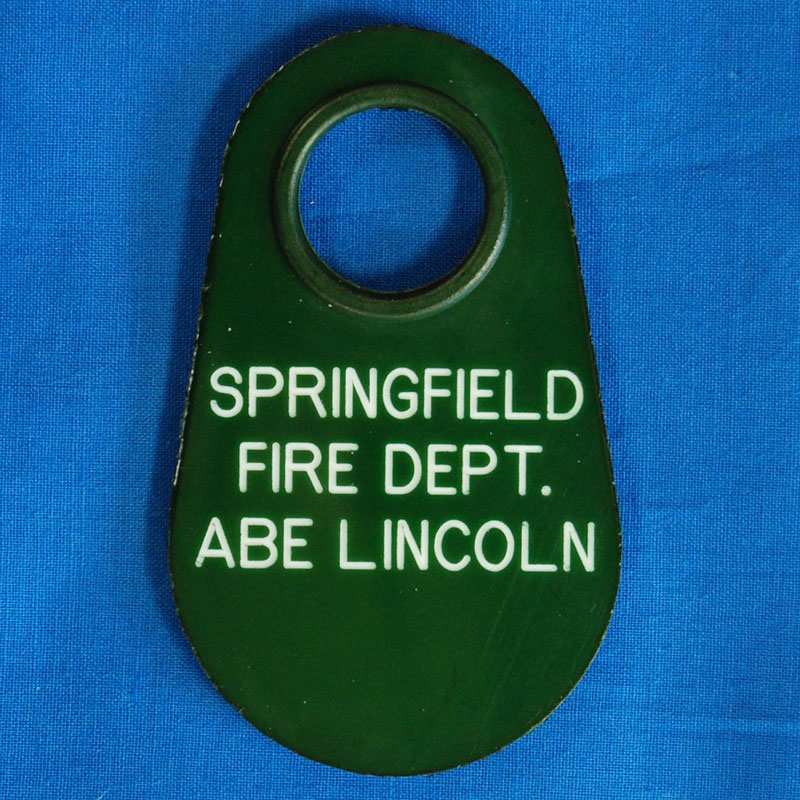 Protect your firefighters with American Trade Mark Co. custom firefighter accountability tags. Our personnel accountability systems are trusted by career, volunteer and combination fire departments across the United States. We offer a variety of PAS options, including name-tag and passport systems, to meet your agency's specific needs.
Prevent Accidents and Firefighter Deaths
According to NIOSH, the ineffective use of — or complete lack of — a personnel accountability system is a contributing factor in many firefighter line-of-duty deaths. American Trade Mark Co.'s mission is to help prevent firefighter fatalities and injuries by providing easy-to-use accountability systems that compliment your fire department's operational guidelines. We are dedicated to supporting your fire ground safety program with industry-leading firefighter accountability tags and accessories.
Custom Firefighter Accountability Tags
American Trade Mark Co.'s name-tag systems are a popular choice for their versatility and affordability. This PAS option is used by both city and rural fire departments in one, two, three or four-tag configurations to track fire crew assignments and locations. In a single-tag system, firefighters and EMS personnel give the Safety Officer or Sector Officer their tags before entering the fire structure, then collect the tags once they have exited the building. In multiple-tag systems, additional tags are assigned to trucks and engines to assist Incident Commanders in evaluating available resources during large working fires or multi-agency emergencies.
American Trade Mark Co. name tags for firefighters are constructed using durable plastic designed to withstand the harshest working conditions, and come with a 10-year manufacturer's guarantee. Our Economy Accountability Tags feature a simple numbering system, engraved in white and color-coded by position. American Trade Mark Co. Custom Accountability Tags are engraved to include up to five lines of text, including your fire department name, firefighter or EMS name, and any other important identifying information your agency requires. These tags are also color-coded to differentiate fire companies and various positions (i.e. Interior Firefighters, Exterior Firefighters, Officers, Medics, etc.)
Firefighter Passport Systems
Developed by the Seattle Fire Department, firefighter passport systems work well for both on-duty and on-call firefighters. This system is typically comprised of three name strips for each first responder, attached by a velcro hook to their helmet, along with passports for each apparatus in the fire department. Firefighters and EMS personnel attach their name tags to their apparatus passport. Once a fire ground assignment is received, the additional name strips can be used on the incident command board and by division officers.
American Trade Mark Co. firefighter passports are custom engraved with first responders' names on a 2" durable plastic tag and are outfitted with a velcro helmet hook. They are designed for use with the American Trade Mark Co. Passport Apparatus Collector, which is sold separately. Passport tags can also be color-coded to meet your fire department's requirements.
Firefighter Accountability Accessories
American Trade Mark Co. offers complete personnel accountability systems. In addition to firefighter name tags and passports, we provide accessories, including Deluxe Tag Clips and Rings, as well as Accountability Tag Stakes, Stands, and Cones. For your Incident Command Center and fire trucks, we feature Accountability Boards and Passport Apparatus Collectors.
Protect Your First Responders
Ensure the safety of your firefighters and EMS personnel with an American Trade Mark Co. custom accountability system. Let an Authorized American Trade Mark Co. dealer assist you in designing a PAS that enhances your fire department's operational guidelines. Our partners are carefully selected for their knowledge and experience with firefighter protective equipment, and can guide you through each step of the selection process. They will help you choose firefighter accountability tags and accessories that meet your objectives and fit your agency's budget.
Safeguard the men and women who serve your community with the nation's leading firefighter accountability equipment by using contacting American Trade Mark Co. to get started using Fire Accountability Tags today.