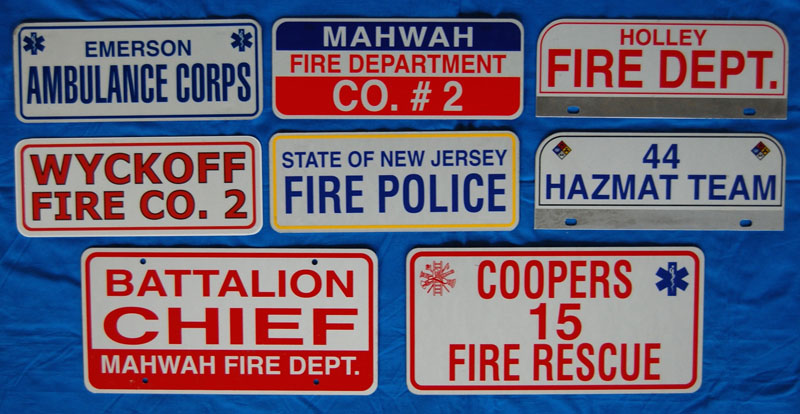 American Trade Mark has custom license plates for all types of emergency services. No matter your unit, department, or chain of command we've got custom plates for your vehicles. We are dedicated to making missions and emergencies more efficient and safer for fire departments, police, and EMS crews. As a company, we have developed multiple items that not only help emergency services but also help identify who they are.
Practical Plates
Custom plates for emergency vehicles help with identification for all types of services. Some of our more popular items are for those who are in charge or in certain positions, such as fire or police chiefs. Identifying commanders of units can be a crucial element of emergencies. Some of the vehicles and industries that these are useful for:
Custom Imprinting
Our highly skilled technicians will custom imprint your logo, text, or titles on any license plates you need. These custom plates are made of aluminum and the color is a high-quality imprint that stands out against the vehicle and makes them easy to read even from afar. The quality and readability make them not only practical but also professional in appearance. Police cars, Fire trucks, Ambulances, Hazmat vehicles and others should have a customized license plate that will reflect your town or township service.
Serving All Of America
American Trade Mark's skilled artists and technicians can design a custom plate for any type of emergency vehicle. From logos to text, we look forward to helping you and your company serve and protect as best we can. We will work with you or your team to ensure you have the logo or plate design that conveys to everyone exactly who the vehicle belongs to. Contact us today to get started.