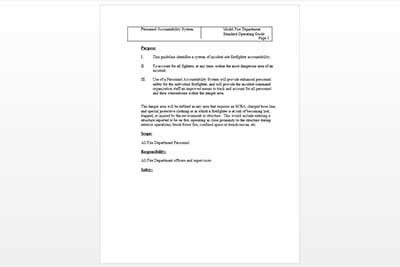 As an industry leader in products dedicated to fire personnel tracking and accountability plan support, at American Trade Mark Co. we want you to have every tool under your belt to keep your people safe on the scene. Your accountability procedures can make or break the fire safety systems you have in place. To help you set up and implement the ideal fire personnel accountability plan for your department, we have provided the following how-to guide. We hope these standard operating procedures for effective fire personnel safety will give you a strong starting point.
---
Personnel Accountability System
Model Fire Department Standard Operating Guide
Purpose:
This guideline identifies a system of incident site firefighter accountability.
To account for all fighters, at any time, within the most dangerous area of an incident.
Use of a Personnel Accountability System will provide enhanced personnel safety for the individual firefighter, and will provide the incident command organization staff an improved means to track and account for all personnel and their whereabouts within the danger area.
The danger area will be defined as any area that requires an SCBA, charged hose line, and special protective clothing or in which a firefighter is at risk of becoming lost, trapped, or injured by the environment or structure. This would include entering a structure reported to be on fire, operating in close proximity to the structure during exterior operations, brush/forest fire, confined space or trench rescue, etc.
Scope:
https://www.firecommand.org/wp-admin/post.php?post=697&action=edit
All Fire Department Personnel
Responsibility:
All Fire Department officers and supervisors
Safety:
Accountability involves a personal commitment to work within the safety system at an incident. It will be the responsibility of individual firefighters and other personnel at the incident to keep their supervisors informed of their activities and whereabouts.
Freelancing of activities will not be permitted and can lead to injury and death of the firefighter and others.
Implementation of the Fireground Accountability System:
To meet the goals of the NFPA 1561 the department shall implement the Personnel Accountability System at all incidents as described above.
Procedure:
To enhance accountability and to improve tracking of firefighters in the danger area, a two (2) tag system will be used.
Tags will have as a minimum firefighters name and department.
One tag shall be affixed to a collection ring on the apparatus prior to leaving the station.
Upon arrival, the collection ring shall be turned into command, an accountability officer or designated accountability location.
The collection ring will identify the department and apparatus ID (Dumont Engine 201) and contain the tags of all personnel presently assigned to that apparatus.
The initial accountability location may be the first arriving apparatus.
For example: "Dispatch this is Engine 501 on the scene 33 Jersey Ave. smoke showing from an occupied 2 story private house. Engine 501 will be Command".
(Engine 501 will be initial accountability location.)
As additional equipment and crews arrive and prior to entering the danger zone, accountability collection rings will be turned in to Engine 501 (placed in a designated area on the apparatus i.e. cab or compartment.)
Chief Officers after assuming command will collect the accountability rings and as the incident escalates place the collection rings on a status board.
The status board will contain only the tags of those crews in the danger zone. Crews/companies or individuals exiting the danger zone will retrieve their
accountability tags or collection ring.
The second tag must be turned in at the entry point to the building or danger zone. The sector or accountability officer who will track the assignments of teams on a status board will collect these tags. When no officer is available for this collection, the tags will be placed at the designated entry point accountability location. Team members will retrieve their tags immediately upon exiting the danger zone.
Member arriving via personal vehicle:
Individual firefighters arriving via personal vehicle shall report to the Command Post and have their ID tag affixed to the company or area they are assigned to.
No member shall enter a danger area without first reporting to the IC or designated accountability officer. An accountability ID tag must be submitted prior to being assigned.
Accountability Supervisors/Division Supervisors:
Accountability Supervisors will be responsible to track and account for all personnel working in their division/exposure or danger area.
Division Supervisors will always maintain accurate tracking and awareness of crews/individual firefighters assigned to them. This will require the Division/Exposure Supervisor to be in his/her assigned area and maintaining close supervision of crews assigned.
Accountability Equipment:
The accountability equipment shall include;
Two (2) ID tags
The tags should be large enough to be handled with gloves and brightly colored to be easily recognized.
Each apparatus shall have one (1) collection ring with apparatus/department ID tag affixed.
A status board should be available to the incident commander and to any sector or accountability officer collecting tags.
Blank tags should be available for other agencies i.e. Police, Public Works, EMS and firefighters arriving via personal vehicle (marked with grease pencil).
Terminating the accountability system
Accountability will be maintained at least through a report of "fire or situation under control", at which time a roll call for all crews should be obtained.
Command will determine at that time, based on the situation and risk as to whether to continue with the accountability procedure.
If visibility is still impaired or a significant hazardous condition still exists, command may choose to extend the accountability system beyond "situation under control".
Upon termination or release from the incident, the Supervisors or crew leaders will ensure that the tags are returned to the firefighters.
---
Supporting You As You Support Your Fire Personnel
For high quality, time-tested accountability equipment to support this fire personnel accountability plan, count on American Trade Mark Co. We have accountability tags, apparatus collection rings, tag collection devices for danger zone entry and exit, and status or command boards, and all are customizable to meet the needs of your individual department. Contact our knowledgeable team today to learn more about how we can outfit your fire personnel for safe, effective accountability procedures.