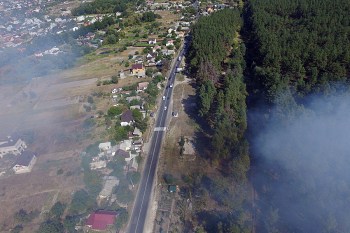 As fires in the wildland-urban interface continue to rise, so do the demands on structural-based fire departments to face these challenging environments. At American Trade Mark, we want to better equip incident commanders and their fire crews for the unique circumstances that arise in the WUI.
Unique Challenges Of The WUI
The balance between firefighter safety and fire suppression priorities becomes even more challenging during wildland-urban firefighting. The incident commander has to not only accurately record the status of the scene during size up and track firefighters, but also be ready to change the plan of attaching and move personnel in an instant.
A WUI fire is not contained within walls or limited on fuel like a typical structural fire. A simple change of weather or wind direction can have tragic consequences if unprepared.
Limited Entry & Exit Points – For Both Crews & Residents
Woodland Hazards Like Animals, Insects & Falling Trees / Limbs
Limited Water Sources
Unique Equipment Needs & Suppression Tactics
When To Concentrate On Wildland Attacks Vs. Structural Protection
Being Mindful Of Wind & Weather
Many Different Types Of Fuel
Preplanning & Training For Effective Tactics
Preplanning lays the groundwork for a successful suppression and flow of operations. To be effective in the WUI, you have to take into account the unique terrain, limitations, and circumstances at these types of firegrounds.
Does your impromptu woodland firefighter know how to use woodland fire hoses? Are these hoses compatible with your apparatus? Is your department trained on progressive hose lays with backpacks? Skills like these can be more than just a benefit; they can be a lifesaver.
The Importance Of The Size Up & Mobility
You want your initial size up to take into account as much useful information as possible. Not only about how the situation appears upon arrival, but any potential changes that may block off escape routes or make access to water difficult as the fire moves.
If the fire moves, you may have to move as well to optimize firefighter safety or get resources where they need to be. Something as simple as how your apparatus is parked can quickly turn into an issue if mobility isn't kept at the forefront of your list of priorities as IC.
Accountability & Communication Protects Firefighters
Incident command gets even more challenging as the fire scenes we are accustomed to change into ones we are less prepared for or familiar with. You want to track firefighters and keep them mobile while effectively directing operations for a successful suppression effort.
Fighting fires in the WUI may come with unique conditions that are difficult to plan for, but one thing doesn't change: the need for clear, practical, knowledgeable fireground communication at all times.
Incident Command Tools For WUI Situations
We supply incident commanders and fire departments across the nation with effective accountability and information tracking tools. Our products are simple to use and not reliant on wifi connections or the availability of electricity. This makes them perfect for WUI operations.
You can stay mobile and straightforward on any fire scene with our gear.
A Trusted Source For IC & Firefighter Safety
At American Trade Mark, we want to help you utilize our firefighter accountability tags and incident command boards for better incident command in the wildland-urban interface. Place your order or contact us today to find out how we can customize these tools to meet the needs of your specific department.