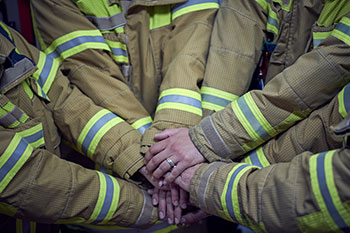 As a nationwide provider of firefighter accountability and incident command equipment, American Trade Mark understands that approaches to fireground command can be as unique as the departments managing these situations. Volunteer fire departments are often the most distinct being made up of individuals from a variety of backgrounds and talents. We've put together some basic tips to help the volunteer firefighter in an impromptu IC position.
Tip 1 – Be Ready To Command
When your crew is the first to arrive on the scene, someone among you will have to take command, and quickly. You don't want to waste time waiting for the "real" incident commander to show up or spend critical moments as new units arrive playing catch up. Even if it's not your ideal position, being able to take the lead until more qualified personnel arrives can save lives.
Tip 2 – Know Your IC Basics
For the inexperienced commander or new firefighter, it can be overwhelming to try and figure out what to do, how, and when. We hope these basic tips can help you feel more prepared to not only handle, but stay and feel organized in an emergency situation.
Training beforehand is essential.
Be able to collect and communicate initial fire scene information.
Know and use standard command terminology.
Break initial efforts into smaller jobs and delegate.
Crew safety is your number one priority.
Take advantage of experienced officers en route.
Prioritize search and rescue, fire control, and fire attack efforts.
Know, use, and track your available and arriving resources.
Tip 3 – Clear Communication Saves Lives
Know your terminology and how to communicate the basics of who has arrived, to what type of scene, and what your initial steps will be not only to your fellow volunteer firefighters but to others on the way. Many times you can take advantage of the knowledge of an experienced incident commander en route.
Tip 4 – An Incident Commander Is Not A Micromanager
What are your resources, and how can you best use those that arrive? For overall firefighter safety and to avoid latecomers from taking their own initiative and making freelancing attempts, take your priority, and break it up into achievable steps.
Assign duties to achieve those steps and track the movement and progress of both the fire and your volunteer fire crew.
Tip 5 – Know Your Priorities
Are there people inside? Is there a fire in the structure? Knowing whether search and rescue or fire suppression should be your first task makes a difference in where you will delegate responsibility and what resources you will use.
Training and knowing your department's standard operating guidelines (SOG's) can be some of the best preparatory tools for volunteer firefighters who may be in a position to take over incident command. Practice knowing what information to collect and how to proceed during different situations for confidence and effectiveness in IC.
Tools To Help You Succeed
Keeping track of people, resources, and an ever-changing fire scene can be a lot easier than you think. Easy-to-use, always ready incident command systems are key. Training on how to use your department's ICS will put you one step ahead in the situation where you are called to take charge.
Especially for rural firefighters, it's best to have access to a flexible, uncomplicated ICS that doesn't depend on internet access or power supplies.
Get An Easy & Effective Incident Command System Today
At American Trade Mark, we can provide you with incident command systems that are ready to go when you are. Our flexible command boards and systems give you access to vital information on-the-go, from a dashboard or a staging ground.
Contact us to find out how we can customize an ICS that fits the needs of your volunteer fire department today. We look forward to putting effective accountability and tracking information in your hands.