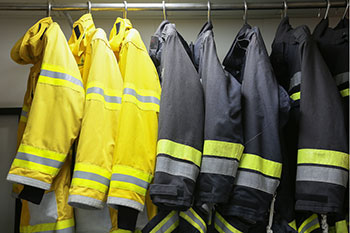 Equipment accountability is important for first responders which is why American Trade Mark offers accountability tags and other decals to help keep track of gear and people. Firefighters and first responders use a variety of firefighter equipment and first responder equipment to handle emergency situations. If these items aren't marked with identifying information, they may be accidentally picked up by someone else or not get put back on the proper vehicle when the emergency is over. Our decals, tags, and other markers are the best way to make sure your gear stays with you.
Accountability Tags
Firefighters are issued accountability tags and they're trained to "tag in"—hand the tag to the safety or sector officer—before entering a structure. When they exit the structure, the firefighter collects his tag from the officer so he can be identified as having returned safely. Often, two tags are used, with the second one going to the incident commander at the truck to keep track of available resources.
American Trade Mark offers accountability tags in different colors, shapes, and formats. They're made from durable plastic and can be engraved with identifying information on both sides. Different colors may differentiate fire companies and departments within a mutual group. Our standard tags have white letters but we also offer black for an extra fee. American Trade Mark tag products include:
Numbers Only
Custom Tags with Fire Department Names
Passport Name Strip
Passport Apparatus Collector
Deluxe Clip to Hold Tags
Boards, Collectors, Rings, and Stands to Hold Tags
Equipment Marker Decals
Equipment marker decals don't have to be fancy. American Trade Mark offers reflective tags with just enough room for your station name and/or phone number. They're printed and cut out on sheets of white reflective vinyl and wording can be red, blue, orange, yellow, green, or black. Laminate can be added for extra protection. Equipment marker decals are used by:
Fire Departments
Police Departments
Ambulance Companies
First-responder Volunteers
We Offer a Full Line of Tags, Decals, and Stickers, Along with Customization Options
American Trade Mark works with fire departments, first-responders, EMTs, and more organizations across the country to create custom decals, tags, and signs for medical equipment, fire apparatus, firefighter PPE, tools, and tool boxes. Call us today or request an online quote to start the process of creating your own signs, stickers, decals, or tags.