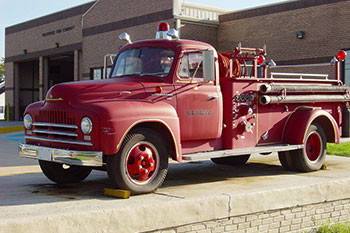 Incident command and firefighter safety have come a long way since Benjamin Franklin's 1736 bucket brigades. By examining the 100-year history of real progress in how we track fires, firefighters, and other emergency personnel on all types of scenes, we can see the difference that modern tools, like those from American Trademark, can make.
The Early 1900's – In Military Mode
As described in documents dating back to 1916, early fire leadership operated in a military-style chain of command. This worked fine for isolated fires that did not spread and were under the direction of one department.
Fire Command In The 1940s & 50s
After World War II, the Large Fire Organization (LFO), was developed by returning military veterans. They used what they had learned regarding military command and control and applied these tactics specifically to fighting wildfires.
FIRESCOPE – Time For Real Change
An outbreak of devastating California wildfires in the 1970s made holes in existing firefighting incident command styles obvious. The military fashion of command fell short when more factors in managing came into play.
Managing Information Coming In From Various Sources
Managing Resources Coming In From Across The Nation
Making Quick Decisions For Fast Actions
Many Different Departments Converged
Establishing Clear Chains Of Command
Being Able To Coordinate Efforts
Communicating Clearly
Many departments joined forces to design a system that would work and be easily repeatable for managing wildfires. This joint force was called Firefighting Resources of California Organized for Potential Emergencies or FIRESCOPE.
The results of FIRESCOPE were the beginning framework for today's incident command systems or ICS. By 1976, the system was moved from a fire-centric system to an all-risk, all-hazard system in design.
The 1980's & 1990's – All Risk, All Hazard
Although ICS was already meant for all types of emergencies as of the mid-70s, it wasn't until 1983 that the Federal Emergency Management Agency (FEMA) started encouraging its use. Non-fire agencies began to explore the use and effectiveness of ICS in their own situations.
In the 1990s the Coast Guard began to adopt ICS.
Keeping Firefighters Safe Through Accountability
In 1990, the Seattle City (WA) Fire Department also developed a system of firefighter accountability called PASSPORT. This system was designed to track firefighters and discourage firefighter freelancing or making decisions about tasks without direction from the chain of command.
Tragedy Encourages Universal ICS Use
The September 11th attack of 2001, further prompted the need for an incident command system that could flex as needed to manage and coordinate a wide range of departments and incidents. ICS became a cornerstone of the National Incident Management System (NIMS) in 2004.
ICS & Accountability Products For Today's Emergency Scenes
At America Trademark, we carry a wide range of incident command and accountability product that supports communication, coordination, and personnel safety across departments nationwide. These tools benefit today's first responders in a variety of ways.
Know Where Your People Are Even If They Can't Communicate
Document Information As The Scene Changes In One Place
Communicate Up-To-Date Information
Flexible, On-The-Go Command Boards
Portable, Centralized Command
Customizability
Affordability
Time Tested Tools For Emergency Scene Safety
Track firefighters or EMS teams. Respond to floods, fire scenes or crime scenes effectively. ICS has come a long way. Let us help to support your incident command and accountability programs with high-quality tools.
Contact us at American Trademark today to place your order or find out how our products can benefit you.