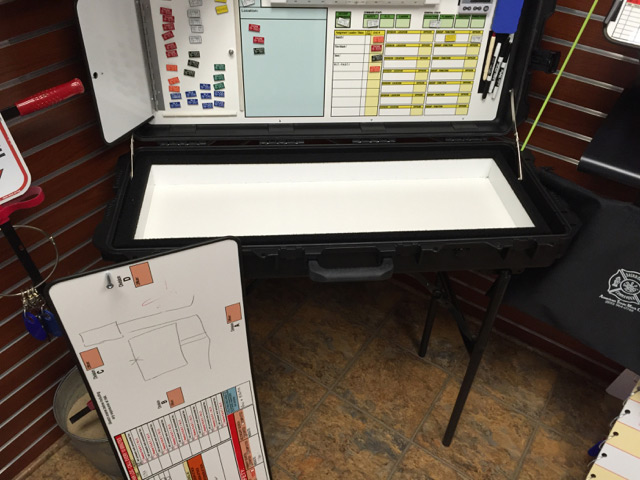 Here at American Trade Mark, we understand that choosing the right command board for your firefighter and EMS department is a crucial component to keeping your team organized and safe. Choosing the right command board can be a difficult task, but we are here to help you make an educated decision that's best for your needs. Incident response teams use command boards in various scenarios to keep emergency responders safe and accounted for. Take a look at all of our options and feel free to contact us for further help. Some of the command boards we offer include the following:
Case Commander™ Incident System
We know that the Incident Commander has to organize and position crews as well as various equipment quickly and efficiently, American Trade Mark's own Case Commander™ Command System is used by both large and small cities and is compatible with the National Incident Management System. This command board is our largest and includes wheels, a sturdy hard-shelled case, lights, alarms, and more so that you can be on the scene and organized with time. We understand the importance of keeping track of every individual, and our Case Commander™ Incident System can help with that.
Case Commander™ Incident System – Passport Edition
Similar to our Case Commander™ Command System, we are now offering the Passport Edition. Developed by the Seattle Washington Fire Department, the Passport Accountability System uses name strips to keep track of all crews and apparatus. The Passport Edition includes a Tag Box to store nametags and includes all the features that the Case Commander™ Incident Command System has as well.
Dashboard™ Commander Incident Command System
Sketch the scene and plan strategically with our Dashboard™ Commander Command Board Incident Command. Track your firefighter unit with up to 38 magnetic tags, timers, and individual notes for hazards and more. This command board was specifically designed to clip on to the steering wheel of the Incident Commanders vehicle so that plans can be made in the most opportune place.
K.I.S.S. Commander™ Command System
One of the first tips most youngsters get when first starting out in the working world is "K.I.S.S." which politely means "keep it simple stupid." American Trade Mark understands this need when responding to small and minor incidents. K.I.S.S. Commander™ Command System offers sketching space, Accountability and Passport tags, team assignments, PAR, Mayday LUNAR info, stopwatch, and neck strap.
RIT Commander™
Similar in size to the K.I.S.S., the RIT Commander™ Tactical Accountability Board is meant to be used on the scene to quickly set up crews and assign tactics before and during a rescue. The RIT is designed as a reversible whiteboard so that you can easily record benchmarks, reminders, L.U.N.A.R. info from Mayday, and deployment times.
Flex Commander™
Unlike paper command boards, our Flex Commander Sheets are printed on flexible vinyl and are compatible with dry-erase markers and are waterproof. Our Flex Commander Sheets are used to record Personnel Accountability Reports, Officer, Crew & Apparatus assignments, space to sketch the scene, and sector assignments. American Trade Mark offers both fire and EMS layouts, and custom Flex Sheets can be printed.
Don't Hesitate, Contact Us Today
Call us today for any further questions about choosing a Command Board. We are here to help you choose the most efficient tools and equipment to keep your department organized and safe.