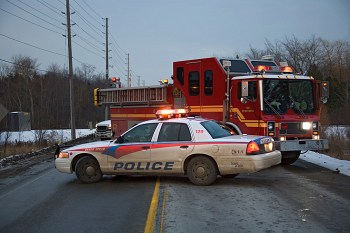 Track departments and communicate more efficiently with tools for coordinating emergency response from American Trade Mark. When multiple departments get involved on high-stress scenes, you want to be as prepared as possible. Preplanning and the proper gear may give you the edge you're looking for.
Clear Communication Is Essential
For maximum safety and swift action, you need to know who is where, what your resources are, and to be able to quickly communicate changes as your scene evolves. The same concept goes for typical fireground communications or multi-departmental responses from a variety of forces.
Multiple Fire Departments
EMS Teams
Police & SWAT Teams
HazMat & Nuclear Response
Always Have A Plan Of Action
In order to establish a truly unified command effort, an incident action plan (IAP) should already be in place with multi-department response protocols known and practiced. It's important that your response teams are familiar with a variety of emergency scenarios and settings.
IAP's may be created for specific event types, such as:
Active Shooter Situations
High Rise Fires (Hotels, Office Buildings, High Rise Apartments)
Industrial Fires
Natural Disasters (Hurricane, Tornado, Earthquake)
It's also important to consider a variety of unique, high stakes settings:
Schools & Colleges
Churches
Malls
Sporting Events
Tools To Support Accountability & Incident Command
In order to collect initial size-up information, changing events, and the movement of people and resources, you need effective tracking and communication tools. We carry a variety of accountability and incident command aides to help you.
Portable Incident Command Boards
Easy-To-Setup Incident Command Systems
Customizable & On-The-Go Options
Our time-tested gear goes with you wherever you need it to and can be customized to the needs of your group response efforts. Setup command on-the-go with The Steel Commander™, Dashboard™ Commander, or K.I.S.S. Commander™. See how much easier it can be to centralize command with our Case Commander® Incident Command System (also available in a popular Passport Edition).
Be Prepared, Order Your Gear Today
Let America Trademark help you coordinating emergency response between departments or branches with our highly-effective, easy-to-use, accountability and command tools. Call us today to place your order or learn more about customization options. We look forward to supporting you and answering any questions you may have about how we can help you.