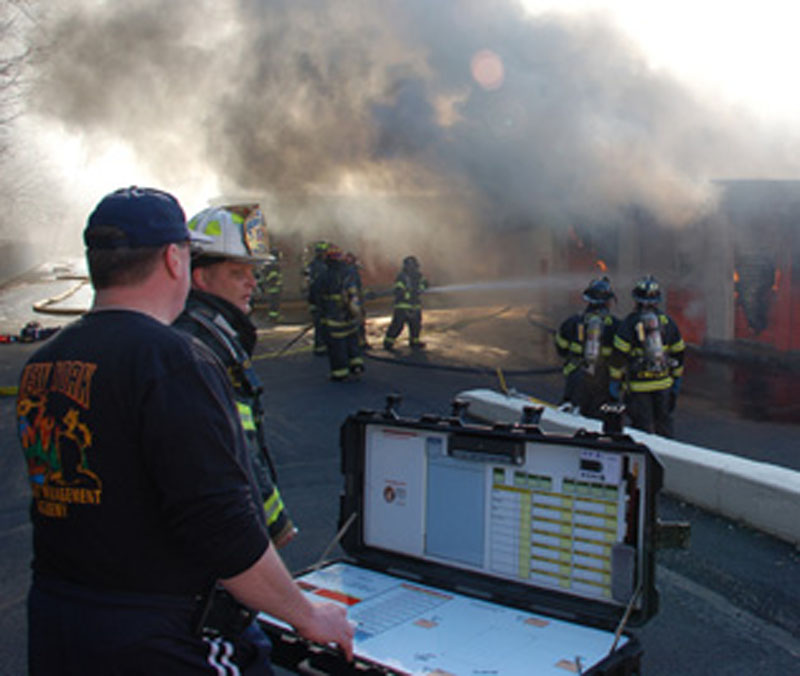 Firefighter tracking systems are a vital part of first responder safety. They help Incident Commanders to monitor the whereabouts of their fire and EMS crews and are vital for making emergency management decisions. American Trade Mark Co. is proud to offer a variety of on-scene personnel tracking products for firefighters.
Browse Personnel Tracking Products
Why Firefighter Tracking Systems Are Important
On any incident ranging from small brush fires to large commercial structure fires, it is crucial for fire department Safety Officers and Incident Commanders to know where their firefighters are at all times. Being able to keep track of crew assignments in real time helps fire chiefs make decisions that contribute to smooth fire ground operations. More importantly, though, personnel accountability systems, like the ones manufactured by American Trade Mark Co., play an important role in ensuring firefighter safety and preventing first responder deaths.
According to NIOSH, many firefighter line of duty deaths and injuries were attributable in part to a lack of or incorrect use of a PAS. In those tragedies, firefighters became disoriented in smoky conditions, were trapped, or had radio failures. An on-scene firefighter tracking system would have alerted Incident Commanders that personnel were missing and would have assisted Rapid Intervention Teams in locating and rescuing the downed firefighters and EMS crews. For over a decade, American Trade Mark Co. has assisted career and volunteer fire departments across the United States in preventing these types of deadly scenarios through our various lines of Incident Command and Accountability Systems.
Types of On-Scene Firefighter Tracking Products
There are many components to firefighter tracking systems. Some are traditional, including firefighter accountability tags and passport systems. Others include GPS technology tied into firefighter radio systems. In recent years, new technologies have emerged overcoming the problems associated with GPS systems, namely that satellite transmissions fail in certain types of buildings and cannot pinpoint a firefighter's exact location in multi-story buildings. These new RFID Firefighter Tracking Systems employ lightweight ID tags attached to the firefighter's gear, portable readers, and Incident Command computer software. This type of accountability system can tell fireground commanders exactly where each of their firefighters are in real time.
On-scene firefighter tracking equipment that uses radio frequency identification gives Incident Commanders valuable information about their crews' progress during an emergency and helps to orchestrate mutual aid and multi-agency response. In case a firefighter becomes trapped or injured, your fire department's RIT will know exactly where to go to rescue them, saving valuable minutes and seconds that could mean the difference between life and death.
Why Choose American Trade Mark Co.'s Firefighter Tracking Systems?
American Trade Mark Co.'s mission is to protect your firefighters and EMS personnel. We offer a broad variety of firefighter tracking products, and our seasoned staff of fire safety professionals will help you to choose a system that best fits your emergency response needs.
We intimately understand the budget constraints that municipal and volunteer fire and EMS departments face. Let us help you with an effective, affordable solution that your Board of Directors or Purchasing Department will embrace. American Trade Mark Co. can provide guidance with Assistance to Firefighters Grants and other financing solutions for this important component of your firefighter safety program.
Call Us For A Free Quote
Call American Trade Mark Co. or submit a request for a complimentary quote online. Our team of fire safety specialists will consult with you to learn more about your agency's requirements and SOG. We will provide you with the best options for on-scene firefighter tracking systems customized to meet your needs.
Take the first step in ensuring your firefighters' safety with American Trade Mark Co. firefighter tracking products.