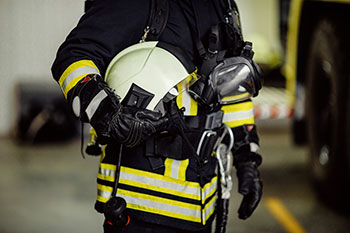 At American Trademark, we've put together a list of useful tips for accountability officers. You know us as a reliable source for the tools incident commanders need to get the job done right. Incident command systems are critical to maintaining safety on the fire scene. This approach falls apart when not appropriately implemented or when crews don't cooperate. Here are some tips on how to use the resources available to easily and effectively track your personnel.
Efficient, Effective ICS Implementation
Establish your post somewhere relatively quiet so you can monitor all radio traffic. You can't be everywhere, so you will be depending on supervisors' radio reports for information.
Make sure every firefighter checks in when they arrive on the scene and that they check out when everyone leaves. Setting up in or near the staging area will make this easy since firefighters will be reporting there anyway.
Wear a reflective vest that identifies you as incident command.
Get to know your company officers.
Don't get distracted by the scene itself or the temptation to engage in specific tasks.
Don't leave your post. Critical details can come in over the radio at any moment.
If you find yourself with your hands full, ask for help.
Use your ICS on every run, no matter how small or routine. Practice makes perfect.
Tools To Support Your Setup
Our products support the most common tracking systems and fit a range of department sizes and budgets. We have large boards that fit in the back of a command vehicle, like the Steel Commander or the self-contained Case Commander Incident Command System. We also carry smaller handheld boards that are ideal for "bread and butter" runs. These boards come with an attached neck strap, so you won't lose it.
Customize Your Incident Command
All of our incident command boards come pre-printed with tactical worksheets for easy organization and management. They are compatible with dry-erase markers as well, so on-the-fly changes are simple to make. Our smaller boards support hanging tags while the large boards use magnetic tags. Velcro editions that support the passport system are also available. Need customizations, just let us know.
Get The Right ICS Today
With the right tools, the proper implementation, and plenty of practice, your fire department's accountability system will be an asset to you as incident commander. At American Trademark, we hope these tips for accountability officers will help you get started or improve your workflow on scene. Need a more effective incident command system? Browse our catalog and place your order today.