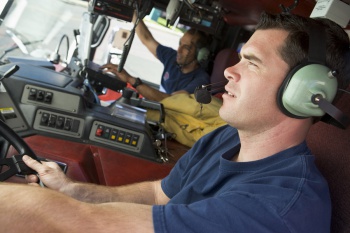 At American Trademark we've put together some high-stress fireground communication tips for when your crews are on the scene of a fire or other emergency. We offer incident commander's nationwide, safety products for tracking firefighters, EMTs, resources, and other first responders. We hope these tips help further your ability to communicate effectively and safely.
The Importance Of Emergency Communication
Being the incident commander isn't easy. You keep your crewmembers accounted for and out of harm's way on the scene. Organized and clear communications systems are imperative during the extreme danger of any given emergency whether it be a natural disaster, fire, mass shooting event, or something else.
Effective Fireground Communication
Effective fireground communications using portable radios seems easy enough, but sometimes miscommunications are conveyed down the line or radio equipment malfunctions. There are some great exercises available that can help each member in the information relay chain understand where an IC is coming from, how to follow directions better, and how to effectively describe a scene when necessary.
Incident Commander Role-Play
Practicing Scene Sketching
Radio Communication Order Model
Communicating Initial On-Scene Information
Role Play For Effectiveness
Have firefighters take turns practicing the role of what the incident commander does. Time at the command board helps other crewmembers better understand how the IC's tools help them keep track of each active firefighter. It also helps them know what information can help you most as you work to keep everyone safe.
Practice Awareness On Scene
Show pictures of certain scenes, have responders convey verbally what they see, and have them sketch the scene as if they were the first line of dispatchers. This an excellent way to make your staff better aware of what kinds of information is important when communicating over the radio. Our line of command boards has special areas for these types of sketches.
Emergency Management For First Responders
Keep your department safe by reminding them to practice using hand gestures. That way, if the radios go down you are not at a total loss. Running through problem-solving scenario procedures, so that everyone is ready in the event they have to be the first one on the scene to describe the incident, is another essential in effective high-stress fireground communications.
Get Fireground Communication Tools
We know fireground safety isn't easy in the heat of an actual emergency. Emergency communication skill drills like these can be practiced regularly to make sure your department is sharing and spreading important fireground information effectively.
The incident command boards and accountability equipment from American Trademark are designed with your typical fireground communication needs in mind. Contact us today to place an order, customize a product, or find out more about how we can help you.