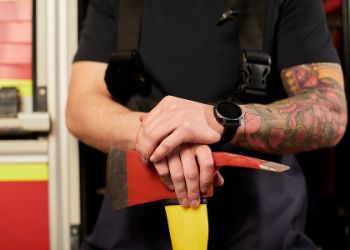 At American Trade Mark, we know just how grueling but rewarding a career in firefighting can be. That's why we're committed to providing top-notch accountability tools to keep our heroes safe. Ensure your department has these eight essential firefighter safety tools so everyone makes it home.
Fire Axes
Halligan Bars
Fire Hoses
Thermal Imaging Camera
Personal Protective Equipment
Portable Ladders
1. Fire Axes For Removing Obstacles
Specialized axes are crucial in firefighting, as they can cut through walls, doors, roofs, and other potential obstacles. The ax heads can chip away at burning debris, while the blade can work for cutting and prying. Plus, you can use the hook on the handle to open windows and other coverings.
2. Halligan Bars: Multifunctional Workhorses
A Halligan tool is no ordinary civilian crowbar—it's way more multifunctional than that. Halligan bars are great for twisting apart debris, prying open doors, breaking windows, punching ventilation holes in buildings, and pulling down walls when an ax alone just won't cut it.
3. A Wide Selection Of Fire Hoses
Having a wide selection of fire hoses is a non-negotiable since they come in different sizes, lengths, heat tolerances, and tensile strengths. There are myriad factors dictating the size and pressure of the water stream needed to extinguish any particular fire safely, so having a diverse array of clearly labeled hoses is vital.
4. Thermal Imaging Cameras For Enhanced Vision
Thermal imaging cameras allow firefighters to "see" through smoke and darkness by picking up on heat signatures. They're essential for locating trapped civilians, determining the safest and most efficient entrance and exit routes, and identifying potential hazards in a burning building.
5. Adequate Personal Protective Equipment
Various types of PPE are essential in any hazardous environment. Firefighters must wear helmets, gloves, turnout gear, breathing apparatuses, and other flame-retardant equipment to protect themselves in potentially life-threatening encounters.
6. Accountability Tags To Confirm Each Firefighter
These humble little tags are much more important than their appearance would let on. Far more than a mere nametag, they're used to ensure that each and every firefighter is accounted for when responding to emergencies so that they can go home safely at the end of the day. American Trade Mark sells accountability tags and snap rings that are customizable for each department and officer.
7. Quality Portable Ladders For Safe Access
As you're well aware, your team often needs quick and safe access to high areas to rescue people. Sturdy, fast, portable ladders are essential to access upper stories, roofs, and other challenging spaces.
8. Incident Command Boards For Organized Communication
Lastly, an incident command system is another indispensable tool to add to any firefighting arsenal. Along with accountability tags, these can help track the activity of each firefighting unit and determine the best course of action during a major emergency. Incident command boards provide a centralized system for communication, allowing firefighters to stay in contact with one another while they are on the scene. They help save time, resources, and even lives.
Contact Us Today For Reliable Firefighter Accountability Equipment
At American Trade Mark, we supply accountability tags and incident command boards—we also carry marker decals for your team to keep their gear labeled and easily organized. Place an order today—we ship nationwide! We can help you improve the safety of your station and ensure success through better accountability and organization.