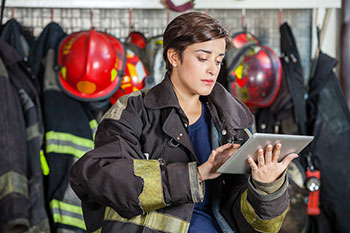 Before diving head first into the latest and perceived greatest, at American Trade Mark, we want you to know that there are many other considerations to think about for today's incident commanders. With new technologies permeating every aspect of life, from thermostats to wearable health gear, many of us look forward to future advancements in incident command systems.
New Incident Management Technologies
Emergency response, asset tracking, accountability, incident recording, and more are promised by many of today's computer-based incident command systems. You can stage command from a laptop or tablet computer. Assets and people can also be tracked from dedicated handheld devices and even phones now.
Drawbacks & Dangers Of These New Systems
No matter how great the claims are and how accessible these cutting-edge systems may seem, not every fire department is a big city fire department with the budget, manpower, and technological infrastructure of, say, New York City. High-tech incident command systems are not one-size fits all in need or budget. There are other aspects of new emergency management tools you may want to consider.
Price Of Initial Equipment, Software & Licenses
The Need To Upgrade Equipment Periodically
Training, Troubleshooting & Dedicated Personnel For Various Systems
Sophisticated Can Also Mean Complicated
Preplanning Is Often Essential
Frequent Information Updates Can Make Or Break Some Systems
Ongoing Fees For Enterprise Level Access Or Certain Tools
Incompatibility Of Information Sharing Between Vendors
Reliable Power & Wifi Access Always Necessary
The High Price Of High Tech
As you can see, there's more to weigh when choosing your incident command tools than whether you can afford a bunch of new tablet computers and software. Investment in one new system does not automatically grant access to seamless communication between different departments, sources of information, or even equipment.
The System May Work, But Will It Work For You?
Does this new system work with what we already have? Can we afford to train, troubleshoot, and dedicate people to this new system. If pre-planning is essential, what happens in the event of a natural disaster or wildfire? Will this system still work when fire, EMS, hazmat, and police collide?
You Will Always Need A Backup
Throw away your whiteboards and get on board with the latest cloud-based incident management technologies. But what does cloud-based really mean? It means your critical information is hosted on a computer somewhere else.
If network access should fail or sensors are blocked or damaged, your investment, no matter how substantial, becomes a loss and a threat to safe fireground management.
Rugged, Easy To Learn & Easy To Use Systems
For many fire departments, complicated just isn't necessary, and expensive isn't in the budget. Adopting stand-alone technologies that are easy to use and meshing them with lasting equipment that is tried and true with decades of first responder use is often your best bet.
Reliable, Affordable Incident Command Tools
Centralize critical and crisis management information. Manage messages, manpower, and task assignments. Track assets, personnel, and standard operating procedures (SOPs).
At American Trade Mark, we care about firefighter safety and provide tools for accountability and ICS that are easy to learn, customize and use. That's why departments all over the nation have come to rely on our firefighter tags and command board systems.
Contact us today to place your order or find out more about how we can customize a system that works time and time again for you.