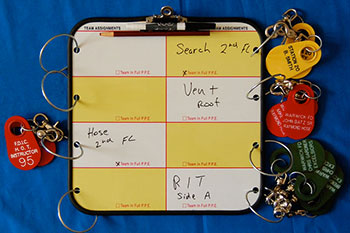 When you're a firefighter, everyone looks out for everyone else by wearing ID tags—and at American Trade Mark, we look out for firefighters with our custom ID tags, accountability tags, and accountability boards. Firefighter safety is our main concern, and it should be a major concern of every fire department everywhere, whether big or small.
Accountability Tags Save Lives
When firefighters are at a fire scene, it's important to have an accountability system in place to keep track of personnel. Wearing ID tags could save the life of an individual firefighter, or the lives of one or more of their fellow firefighters. Checking in on an accountability board is important when you're responding to a call in a hazardous area or even when you're responding to a more minor fire threat. As you know, scene safety conditions can change quickly, and having everyone's ID on a command board is one way to help control a changing situation and stay on top of firefighter safety. American Trade Mark has all of the tools you need to set up an efficient system.
Keeping Track of Firefighters Via ID Tags
Important details regarding the whereabouts of each firefighter can be quickly obtained if firefighters check in with their ID tags through an accountability system. When all firefighters "tag in" before they enter a structure, the safety officer or sector officer will be aware of their location. As soon as the firefighter exits the structure, the firefighter must collect his tag immediately so his officer knows he got out safely.
Boards can identify:
How many firefighters are on the scene
What is each firefighters' level of qualification
What apparatus did they arrive on
Do they have any medical alerts or allergies
American Trade Mark offers custom command boards to work with whatever type of firefighter ID tag your department uses. Our accountability systems can accommodate fire scenes that vary in size or have unique safety concerns; they keep information about your firefighters, apparatus, and scene right at your fingertips.
Train and Drill: Practice Using the ID Tags and Accountability Boards
In any firehouse, the number one goal should be for the safety and survival of everyone inside and outside of a fire or emergency. To prepare to use firefighter ID tags and accountability boards onsite during a fire, it's important to practice. This way, everyone gets comfortable with the system and onsite problems can be avoided.  Plan ahead and designate roles in regard to the accountability system in case of structural collapse or sudden change in fire behavior. A well-designed system from American Trade Mark can help to protect all firefighters and officers. Some departments use a tag to "tag in" to the truck, as well, so available resources can be quickly evaluated.
Contact Us For Firefighter ID Tags
Contact American Trade Mark for all your accountability ID tags and accountability board needs—and, ask us about our custom solutions. We look forward to helping your firefighters stay safe.