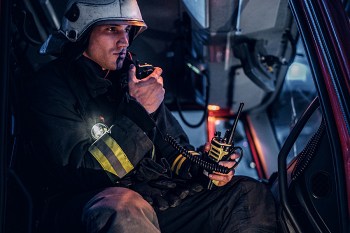 At American Trade Mark, we understand that the incident commander and incident safety officer are anything but redundant on an active fire scene. These two roles work in tandem to keep everyone on-site informed and as safe as possible. We want to help you with more effective IC & ISO fireground communications.
ISO Vs. IC
If IC and ISO aren't different names for the same duty, then what's the difference? While the incident commander is responsible for overall fire scene order and firefighter accountability, the incident safety officer fine-tunes the safety portion of fireground operations.
Keeping The Crew Safe
ISO's are essentially safety advocates for everyone fighting a fire or responding to an emergency. The IC and ISO work closely to ensure thorough, adaptable fire scene safety tactics.
The IC manages overall fire scene tactics.
The ISO takes steps to fix or stop any actions posing an imminent threat.
The ISO lets the IC know about emergency actions taken.
The ISO notifies and works with IC to fix non-emergency potential safety risks.
360 Assessments
Another different-but-same duty of incident commanders and incident safety officers involves the 360 fire scene assessment. IC's and ISO's should both conduct independent 360 assessments of a fire scene.
The ISO's Role In 360 Assessment
The incident safety officer relies on the initial incident command officer's assessment. He or she then takes this tactical information and tries to decide how these tactics will affect crew safety. The incident safety officer often notices situations overlooked by IC as they try to bring structure to an initially chaotic fire response effort.
The IC Manages The Big Picture
Can approaching apparatus fit under that overpass? Is our path of egress clear in case of an evacuation? Do we have enough PPE gear for both first response and soon to arrive crews? It's the IC's job to know and communicate the answers to these questions.
Crucial & Complementary
Ultimately, the incident safety officer works with IC to keep fire crews safe, acting to correct immediately dangerous situations, and keeping the incident commander informed about changes made and changes that still need implementing for optimal firefighter safety. The incident commander can focus on overall risk assessment and resource allocation while their safety officer focuses on safety.
Reliable Tools For Accountability & Collaboration
Checklists, changing environments, and IC-ISO communications are difficult, if not impossible, to keep track of effectively unless you have an easy to use, reliable system. American Trade Mark not only offers a wide selection of fire-scene tested command systems; we can customize these products for the specific needs of your incident command and safety officer. We are also well-known in the industry for our firefighter accountability systems.
Mobile, Flexible Options
Our command boards and systems are highly portable and easy to use, whether you are an urban or rural fire department. No power or wifi is needed. Set up command from the back of a vehicle or bring your board with you as you move about the scene.
Order & Customize Your Command Boards
Order your command and accountability systems from American Trade Mark today. Or call and ask about customization for better ISO – IC communication and tracking.
We look forward to getting you the tools you need for more effective foreground communication and collaboration.