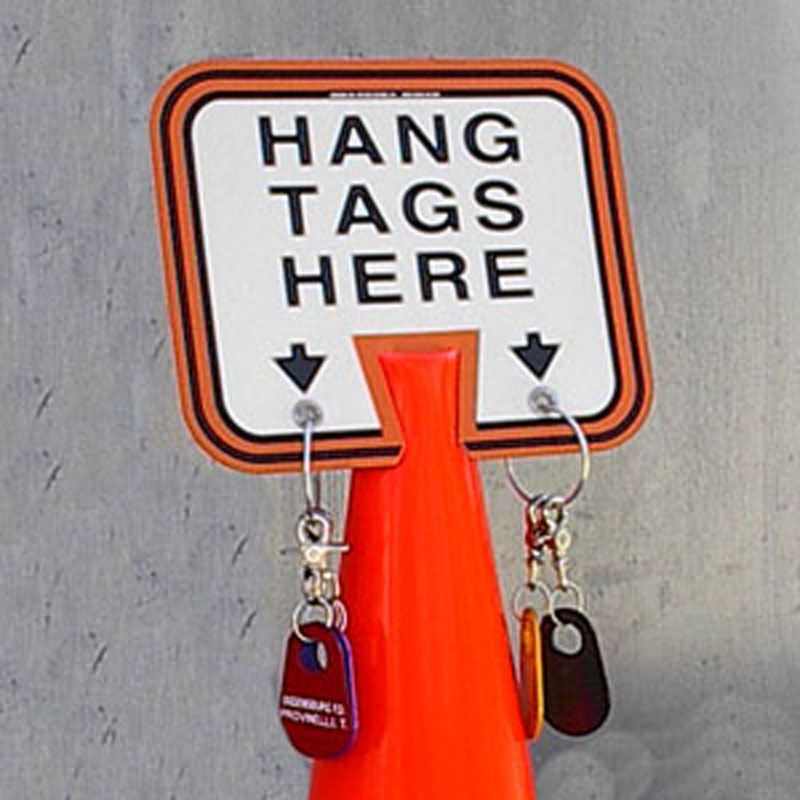 Enhance your fire department's personnel accountability system with American Trade Mark Co. accountability tag collection points for firefighters. Choose from a variety of styles, including fire truck rings and ring collectors, and accountability stakes, stands, and cones. Protect your first-responders and support your agency's Standard Operating Guidelines with our accountability tag collection systems.
View Accountability Tag Collection
Firefighter Accountability Stands
The American Trade Mark Co. Accountability Stand is a convenient tag collection solution for fire departments facing manpower challenges. This system can be carried on the first-due fire apparatus and placed at the incident's entry point. Firefighters and EMS personnel can clip their accountability tags on the rings and write their assignment on the stand's dry erase board before they enter the structure. This type of collector enables Outside Sector and Operations Officers to monitor the tags while performing other necessary duties. Crews can retrieve their tags upon exiting the building.
The American Trade Mark Co. Accountability Stand is designed for convenience, with an A-frame construction that can easily be folded and stored on your fire truck. It includes twelve rings and assignment areas, enabling you to track up to twelve teams. We also offer Hook and Loop models for Passport™ Style firefighter accountability tags.
First Responder Accountability Stakes and Cones
American Trade Mark Co. Accountability Stakes and Cones are also designed to assist career, volunteer and combination fire departments with limited available manpower. These firefighter accountability systems enable you to protect your crew, follow your department's SOG and overcome resource challenges. Simply place the Accountability Cone or Stake outside the entry/egress point for the emergency, and your first responders can place their tags and remove them as they move in and out of the fire ground. Both types of accountability tag collectors allow fire company officers to perform other necessary duties while monitoring the location of their firefighters.
American Trade Mark Co. Accountability Stakes are constructed with durable metal and feature easy-to-read signage. This PAS product can used with any soft surface, and can withstand the harsh elements associated with working structure fires. American Trade Mark Co. Accountability Cones are versatile and can be used in any setting. Clear signage and the emergency orange cone make this accountability collection point easy for firefighters to locate.
Fire Truck Rings and Ring Collectors
Outfit your fire apparatus with our premium firefighter tag collection systems. Standard American Trade Mark Co. Fire Truck Rings come with a large ring for firefighter accountability tags and a truck tag engraved with your apparatus' designation. Our snap ring design makes it easy to move the Fire Truck Ring between your apparatus and the Incident Command Center.
American Trade Mark Co. Fire Truck Ring Collectors are part of a more advanced apparatus PAS. It is outfitted with a large custom-engraved aluminum tag that identifies your truck, engine or ambulance and the riding assignments for your crew. This model allows firefighters to tag into their individual riding positions. Each unit is custom-made to your apparatus' specifications and can accommodate up to 10 positions. A durable clip attaches the Fire Truck Ring Collector to the emergency vehicle and the status board located at the Command Post. We also offer tag color coding at no additional charge to your fire department.
Ensure the Safety of Your Emergency Personnel
American Trade Mark Co. is dedicated to protecting the lives of your firefighters and EMS crews. Our accountability tag collectors are part of a full line of personnel accountability systems that can be custom-made to fit your agency's Standard Operating Guidelines. Making it easy for you to track your firefighters' whereabouts is our mission, and helping you to bring them home safely each day is our goal.
Call us today for a free firefighter accountability system consultation and quote.