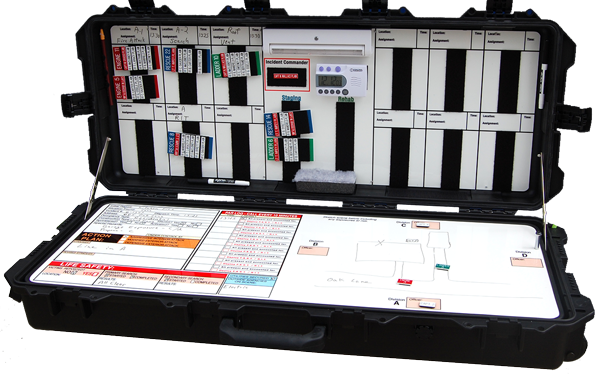 American Trade Mark Co. is a well-known leader in the firefighter accountability system field and ready to support you and your department using a system such as RIT, RIC, FAST. We have some of the best firefighter command systems around. Let us show you the latest to help protect your team.
Accountability Systems
As research shows, accountability systems and teams help save lives and benefit the organization of the team while on the scene of a fire, big or small. They are compatible with many groups and increase the safety. Some of these groups are:
RIT – Rapid Intervention Team
RIC – Rapid Intervention Companies
FAST – Firefighter Assist and Search Team
RIG
RET
Command boards are vital to the safety and recovery of firefighters and equipment when on the scene of a fire or accident. To know where each member is and what their job description for that fire or accident is, can make a difference to the outcome of the situation. With accountability tags and boards for these specialized teams as well as the firefighters, it is easier to know what needs to be done and where the support teams have been deployed.
RIT, RIC, & FAST
Whether your fire department uses RIT, RIC, FAST or some other variation or similar term for the Rapid Intervention Team the command boards offered by American Trade Mark Co. will be compatible. We have custom boards and tags that you can adapt to the system you desire. With boards for the trucks and equipment and tags for the firefighters and command team, there is a place for everyone and every piece of equipment.
Cost Reduction & Fund Allocation
With these accountability systems, the cost of lost equipment is reduced and therefore the cost to the department and the public is reduced allowing for funds to be allocated to better equipment, training, and education of the firefighters and staff. Our systems are easily installed into your current set-up and keep the transition simple and understandable.
Contact Us To Get Started Today
Many departments are already utilizing American Trade Mark Co. accountability systems and are finding that the command boards are creating a more unified and organized environment for the firefighters to work in and that they are saving money while being just as if not more efficient and safe. Give us a call and let's get you set up so you too can enjoy these benefits for your department.