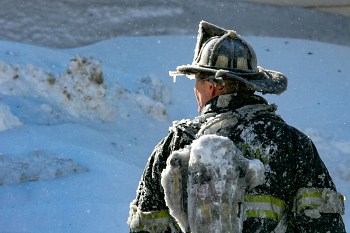 Improve fireground communication and firefighter safety with fire department communication tips for bad weather from American Trade Mark, your reliable source for accountability and incident command tools nationwide. There's no such thing as a snow day for firefighters. Inclement weather only makes the job at hand more vital and dangerous. Having a good safety plan in place that addresses severe weather goes a long way to lower risks and prevent disaster.
Tips For Communication During Inclement Weather
Rain, hail, wind, and snow can be just as hazardous as a hurricane, flood, or mudslide if your team is not prepared. Proper, early training on potential weather safety hazards in your area can keep you as ahead of the game as possible. We hope these preparation and communication tips will help your fire department or emergency response team feel more prepared for their next call during inclement weather.
Know the weather threats to your local area in and out.
Clearly define communication roles and responsibilities.
Keep accident, injury, or fireground communications fast, accurate, and frequent.
Have and train on appropriate gear specific to your local weather-related safety hazards.
What's The Weather Like?
It seems like a simple question, but knowing the usual and current weather conditions in your area can help you train and prepare for emergencies long before you're in the fray. Tapping into the National Weather Service and National Oceanic and Atmospheric Administration broadcasts can alert your department early.
If roadways are flooded, what are your alternate routes? Will downed power lines or heavy cloud cover affect your ability to communicate clearly?
Crisis Communications Roles
Are your incident command and lines of communication roles clear? Who reports what, and how often? Make sure all team members know who to report to and when to report in during a weather emergency. Because storms are not static, you also need to have a way to collect and organize the information you receive after initial observations and reports.
The situation will change. Fast, accurate, frequent communication means that go both ways are the best solution.
Weather-Specific PPE & Rescue Gear
Along with proper communication tools, it's essential to be prepared with weather-specific safety gear. Structural firefighting gear may be a liability in a flood rescue situation. If your area is prone to a particular type of bad weather, make sure your crew is familiar with the best clothing, driving techniques, and rescue tools for that type of weather.
Accountability & Incident Command
Our portable incident command boards and accountability tags are heavy-duty and highly portable. Know who has arrived on what apparatus and track their movements during low-visibility situations. Take down outgoing and incoming communications about your changing fire (or other emergency) scene with incident command systems that don't require power or internet connectivity to work. Train, plan, and take the right tools along for the ride.
Don't Let The Weather Stop You
Rain or shine, don't let the weather keep you from keeping fire crews safe, communications effective, and rescue efforts as successful as possible. At American Trade Mark, we're here to help with the fireground communications tips and tools you need. Call today to place your order or find out more about your customization options. We look forward to supporting you.