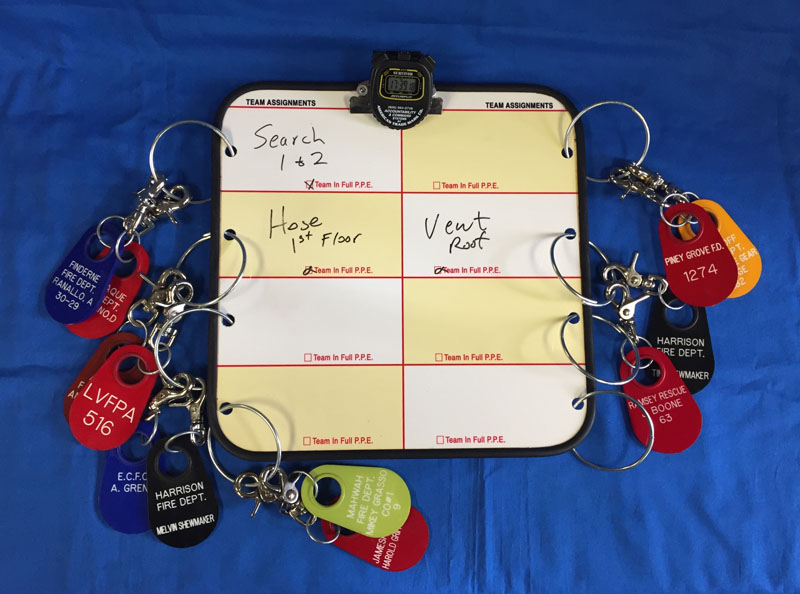 Firefighter status boards are an essential part of managing successful fire ground operations. American Trade Mark Co. offers a variety of firefighter accountability boards and command boards to help you effectively track your resources and make important strategic decisions. We are one of the fire service's leading Incident Command and Accountability Systems manufacturers, and we have assisted thousands of career and volunteer fire departments and emergency service organizations across the United States.
Browse Incident Command Boards
Emergency Personnel Accountability Boards
American Trade Mark Co. Accountability Boards are the ultimate in firefighter tag collection systems. Incident Commanders and Accountability Officers rely on our products to ensure firefighter safety, record crew assignments and monitor the use of Personal Protective Equipment (PPE). Our Deluxe Accountability Boards also allow you to track SCBA times and are designed with a custom sleeve that will help you to adhere to your fire department's SOG. Some models come with stopwatches, and dry erase markers and grease pencils are included with every firefighter accountability board.
The Most Comprehensive Selection of Incident Command Boards Available
American Trade Mark Co. offers a wide variety of command boards ranging from our basic K.I.S.S Commander™ model to our full-capability Case Commander™ Incident Command System. Each status board has been designed to meet specific needs based on input from fire service leaders across the United States. The experienced firefighter safety specialists at American Trade Mark Co. will help you to select the command board that is right for you.
Heavy Duty Command Boards
Our flagship model – the American Trade Mark Co. Case Commander™ -allows Incident Commanders to orchestrate both simple and complex fire ground operations. You can easily track firefighter and apparatus assignments and activities using the National Incident Management System. This mobile command board is built into a commercial-grade case and is outfitted with a dry erase surface that will help you to manage strategic and tactical planning, hazards, PAR, size-up notes, and crew assignments. It comes with a timer clock, alarm, 50 custom engraved magnetic tags, LED lighting, dry erase markers and erasers, and convenient storage areas.
Easy-to-Use Command Boards
American Trade Mark Co. also manufactures simple command boards. The Flex Commander™ is a durable vinyl dry erase sheet that can be used on its own to track your fire and EMS crews and map out your strategies. The K.I.S.S Commander™ is perfect for smaller jobs. This firefighter status board allows Incident Commanders to record team assignments, PAR, and Mayday L.U.N.A.R. information. This compact command board features accountability tag rings, a stopwatch clock, and a neck strap for hands-free use.
Custom Incident Command Boards
Specialized command boards are also available from American Trade Mark Co. Our RIT Commander™ Tactical Accountability Board is designed especially for Rapid Intervention Team Leaders to track assignments and tactics during firefighter rescues. The American Trade Mark Co. Dashboard Commander was created for Fire Chiefs who prefer to manage incidents from inside their command vehicle. This tactical board is steering-wheel-mounted and is fully N.I.M.S. compliant.
Choose American Trade Mark Co. Status Boards for Firefighters
For over a decade, American Trade Mark Co. has set itself apart as a leader in personnel accountability and incident command systems. Our firefighter safety and fire ground management products protect first-responders' lives on a daily basis in cities and rural communities across the United States. Our accountability boards and command boards are affordable, and we offer flexible payment options to help you work within your budget. American Trade Mark Co. offers manufacturer guarantees on all of our fire equipment, giving you peace of mind that your investment will stand the test of time.
Call us today or request a quote online, and learn how American Trade Mark Co. can help your fire department or emergency services organization.