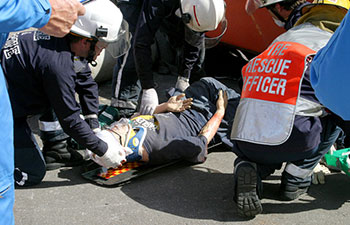 At American Trademark, we understand that to run an effective emergency response team it takes tremendous dedication, perseverance, and organization. So, we provide command boards and accountability tools to help EMS incident commanders organize and coordinate. When any type of first responder group uses a personnel accountability board effectively, that organization can potentially improve response times, outcomes, prevent confusion, and even save lives.
Using Command Boards For Many Types Of Emergencies
Our command boards have been used effectively by fire departments for many years. But many different types of first responder organizations could benefit from using a command system in the field. Command boards can be used effectively for emergency situations, like bombings, riots, shootings or other human-caused emergencies.
As another example, using a Case Commander Incident Command System for organizing rescue and recovery operations from a natural disaster like a flood, mudslide or earthquake could coordinate efforts from police, fire, and EMTs. Each organization would have a direct task assigned through the command board and would be able to perform their most effective tasks without overlapping or encroaching on another team's assignment.
Benefits Of Incident Command Board Use
When command boards are used effectively, they can improve emergency management in many beneficial ways. Here are just some of the ways an incident command system may benefit your organization:
Enhances decision making in real time.
Enhances the first responders' accountability through tracking of assigned areas.
Facilitates the transfer of command.
Improves coordination of multiple agencies working together.
Enhances the situational awareness of the incident command.
Tracking personnel, resources, and equipment visually through a command system can decrease confusion and speed up response time.
System Options To Fit Your Needs
The popular Case Commander Incident Command System is usually the perfect way to track personnel and get the job done. For some emergency response teams, a large standalone command center is too big to deploy effectively.
If the Incident Commander still has need of a quick, effective communication tool to deploy personnel efficiently but doesn't have much space or time for setup, the Steel Commander might be the perfect fit. This command board, which fits perfectly in the back of an SUV or truck, can be a great fit for the person in charge.
This solution provides the same visual information to the commander and crew without having the command center in a separate, standalone location. We also have dashboard systems and more portable walking options available for emergency situations that require mobility.
Let Us Help You With Quality Command Boards
When coordination and cooperation are the key to effective emergency management, an incident command system including a quality incident command board provides the perfect way to quickly direct an effectively respond.  At American Trademark, we hope that when everyone knows what to do easily and efficiently, it can result in a job well done and one more life saved. Contact us today to order or customize a command board for emergency response.