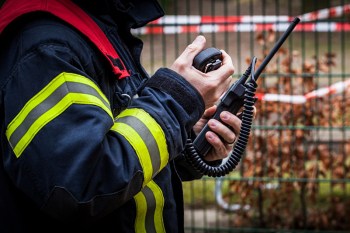 Ensuring effective fireground communications for both firefighters and incident command with strategic planning and gear from American Trade Mark. Time is of the essence during an incident, so it's necessary that all fire personnel are on the same page with each other, using clear and organized radio communication techniques.
We provide tips and tools to help make that happen.
Tips For Effective Communication
We've put together seven simple tips for you to consider as you create and revise your department's fireground communications protocols and incident action plans. Whether you regularly respond to fires in the wildland-urban interface, rural situation, or big city accidents, practicing early and often will help these tactics help your crews.
Keep Things Simple: Crews should incorporate simple words, phrases, communication policies, and gestures. The more complicated the language you use, the more complicated it can make things.
Think Before You Speak: Before talking into your radio or someone in-person, ask yourself if what you want to say is relevant to the situation. Unnecessary dialogue can cause misunderstanding and disrupt radio channels.
Have An Established Communication Order Model: Make sure your crew has an easy-to-use communication system in which dialogue between a sender and receiver is clearly understood and acknowledged.
Treat Others How You'd Like To Be Treated: A fire scene is often a stressful environment and can cause emotional distress, but it's best for everyone to speak to each other calmly and respectfully. Expressing yourself with anger or yelling may cause other team members to respond in unuseful ways and break the flow of effective communication or result in miscommunications.
Have An Organized Command Board System: Having an organized command board system makes it easier to track your personnel and resources and make critical tactical decisions quickly.
Practice Makes Perfect: Encourage your crew to practice dispatch models and skills when there's downtime. One effective verbal exercise is to have crew members verbally describe a scenario or piece of equipment. We also recommend different role-playing scenarios.
Build Personal Relationships: Developing personal relationships with your team members helps bring unity and cohesiveness to your squad. Find ways to connect with your crew members through shared interests or goals.
Track & Inform With Incident Command Boards
We offer many products designed to assist you in fire scene oversight and clear information transmission among your squad. Our incident command systems range from handheld, highly-portable boards to dashboard and trunk systems perfect for on-the-go management from an emergency vehicle, and easy to set up Case Commander® systems for centralized management of larger emergencies.
Dry Erase Command Boards
Customizable To Your Department Needs
Traditional & Passport Compatible Systems
Collect & Relate Critical Information
Heavy-Duty For Fireground Use
Highly-Portable
Order Better Fireground Communications Gear
In order to be effective, any incident command gear you choose should be easy to use and customize to you. That's where American Trade Mark comes in. Contact us today so we can help your department find the right gear to streamline your fireground communications.