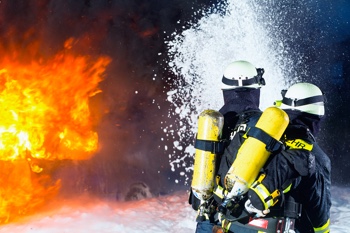 At American Trade Mark, we serve communities by making it possible to keep track of one of our most important assets with accountability tags, our firefighters. We are pleased to supply fire departments across the country with the best quality accountability tags for keeping track of firefighters. These firefighter accountability tags are used for quick reference to know who is in each structure, which firetruck they are on, what resources are available to the Chief, and for many other uses.
Keeping Track of Your Firefighters
By placing the accountability tag with the Safety Officer before entering a structure, and retrieving it immediately after exiting, fire scene accountability and safety are easily and efficiently tracked. These handy firefighter accountability tags can be used to help organize a wildland fire crew, a forest fire crew as well as the busy big city crew and the small town volunteer crew. These men and women put their lives on the line to serve others, and this firefighter tag system can help keep them safe and accounted for.
Types of Accountability Tags
Whether you are looking for an economy option, bulk orders, or custom engraving with multiple lines of information or medical warnings, at American Trade Mark we have your needs covered. We carry several types of tags such as:
Colorful Plastic Tags
Custom Tags
Velcro Tags
Multiline Engraved Tags
Custom accountability tags are made of a durable plastic that is engraved with the information requested. Many departments use two per individual firefighter. One tag is used as a truck tag (to know which vehicle the individual was assigned to) and one as a structure tag (for when the firefighter enters and exits a structure).
Color Coded Accountability Tags
With so many colors available, color coding may also help create a more organized scene. They can be used to differentiate between medics, firefighters, departments, red cross, and other services on the scene. Medical Warnings can be engraved on the back of the tags to help identify the individual.
Organizational Tags for Camps & Youth
The many benefits of these tags are available to anyone nationwide. They are colorful and convenient as well as simple to use.
Some other uses of these amazing tags are:
Summer camp swimming boards.
Sports and music camps.
Youth events at a college campus for dorm room check-in.
Name tag systems.
A variety of organizations and events can benefit from our reusable accountability tags. They come with a ten-year guarantee to ensure usefulness and quality year after year after year.
Protect Your Firefighters Today
Let American Trade Mark help keep your local team of firefighters safe and accounted for with accountability tags as they serve your community. Call now with any questions you may have. We are here to help you order exactly what is needed to help keep your crew safe and accounted for.