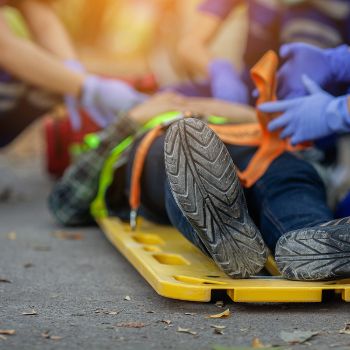 EMS and paramedics are often the first lines of help on an emergency scene. From fires to protests to car accidents in bad weather, these first responders save lives in some of the most dangerous and chaotic situations. Unfortunately, the risk for accidents is high, and an injured paramedic can't help anyone.
Scene Management Tools Help Keep Your Teams Safe
We want to help you take care of your emergency response teams with these four EMS and paramedic scene safety tools.
Dry-Erase Command Boards
Mobile Incident Command Systems
1. Custom EMS Command Boards
As a paramedic, incident commander, or safety officer, you know that the call you get isn't always the call you end up having to handle. Situations change, and suddenly, you are trying to juggle a million things that need to be taken care of right now.
According to EMTprep, "the first order in managing any scene is to gather as much information as possible." Our Flex Commander™ dry-erase command boards are available in either fire response or EMS layouts.
You'll find a color-coded S.T.A.R.T. triage system reference chart and plenty of space to record and organize the information you need to keep your patients safe.
Location Staging Information
Hospital Details
Ground & Air Ambulance Information
Immediate, Delayed & Minor Treatment Groups
Triage Groups
Patient Information
2. Incident Command On The Go
Treating patients quickly and efficiently means a lot of movement for EMS and paramedic teams. You may find yourself taking vitals in a home, an office, at the roadside, or at the scene of a crime. When it's time to move treatment to the ambulance or helicopter, or time to move on to the next call, how do you make sure vital information comes along?
Our mobile incident command systems can easily go wherever you need to. You can keep track of evolving safety situations and quickly have response details on hand for hospital communications or later reporting.
3. Keeping Paramedics Accountable
What if you have a question about safety on last night's calls or need to contact your paramedics on the scene to warn them of possible structure collapse, explosive materials, infectious disease potential, or dangerous persons? Personnel accountability tags help your incident commander know who is on the scene, who needs certain safety information, and who was present last night or even a week ago.
4. Track PPE & Essential Safety Gear
According to EMS World, "Half of scene safety takes place before you go on shift." A lot of training and preparation goes into each emergency call, but no amount of training will make up for gear that's just not there. Our equipment marker details can help you label and track EMS supplies, so you arrive at every call ready to protect yourself and provide the best care.
Order EMS Safety Gear Today
Make sure your emergency response scenes are as safe as possible for your EMS and paramedic teams. Contact American Trade Mark today to find out more about our accountability tags and incident command systems and how we can customize them to suit your department.