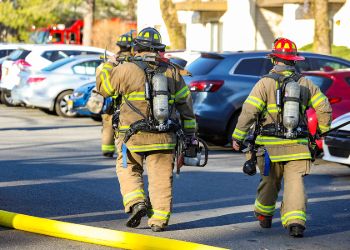 Learning key emergency management principles and implementing them within your current incident command systems can help you respond more effectively to hazards. But where can your fire department, medical response crews, or law enforcement team start?
According to the Federal Emergency Management Agency (FEMA), "emergency management provides a structure for anticipating and dealing with emergency incidents." They outline 5 main principles for implementing this structure.
Prevention
Protection
Response
Recovery
Mitigation
Prevention — Deterrence & Counter Measures
The prevention portion of your emergency management plan should be all about avoiding incidents from occurring in the first place. Examples of preventative actions your department may take include: conducting inspections, increasing surveillance, and implementing counter measures.
Prevention is just a starting point, however, because it's impossible to mitigate every hazard that poses a risk to your community.
Protection — Save Lives Through Preparedness
The next of our incident command tips involves being prepared. If you're familiar with our command boards for firefighters, EMS, and law enforcement, you know that we are all about enabling first responders. We want to ensure you are equipped with tools that help you get and stay prepared during an emergency.
During the protection phase of your emergency response plan, the actions you take can reduce the impact of a hazard, save lives, and facilitate both response and recovery operations.
Identify Potential Threats In Your Community
Determine Potential Vulnerabilities In The Current Infrastructure
Identify Any Resources & Supplies You Will Require
Develop An Emergency Operations Plan (EOP)
Recruit, Assign & Train Staff
Designate Emergency Facilities — Like Shelters & Distribution Centers
Response — Putting Preparedness Plans Into Action
Response efforts usually start when you know an emergency is imminent or immediately afterward. These actions should address the short-term, direct effects of the hazard or incident. Your focus should be to limit the loss of life and restore critical infrastructure.
FEMA has many recommendations for the response phase of emergency management.
Conduct An Assessment Of Critical Infrastructure & Facilities
Execute Your EOP
Disrupt Illegal Activities / Apprehending Perpetrators
Implement Lifesaving Efforts — Evacuation, Search & Rescue
Discover The Number Of Citizens Displaced
Emergency Response Tools
Some examples of emergency response activities involve communicating with transportation, utilities, media, and first response departments and taking note of disruptions that could cause injury or property damage now and in the days to come. We also offer a range of user-friendly tools to streamline incident command as you collect information and work to save lives.
Our first response accountability tags can help you track teams during search and rescue.
Incident command systems create a portable base of operations on the scene of an incident.
Magnetic dry-erase boards help you collect, organize, and quickly change incoming information, so you can respond more effectively.
Our command boards can be customized to the types of events you plan on encountering.
Recovery — Getting Things Back To Normal
Recovery should begin right after the hazard or incident. The primary purpose of this emergency management principle is to identify needs in the community, find resources to meet those needs, stabilize, and rebuild. It's also essential at this stage to identify lessons learned.
Long-term recovery can take months or even years.
Mitigation — Ongoing Improvement
Emergency management is really more of a cycle than a set list of steps. So, the mitigation phase is both an ending to your recovery efforts and a beginning to your prevention plans. The main focus of mitigation is to reduce or eliminate risks associated with a hazard and, if that's not possible, to decrease the consequences.
You may work on mitigation before, during, or after an incident. During this stage, your planning should be developed with lessons learned during recovery.
Identify Events That Occur In Or Around Your Community
Determine How Likely Another Event Is To Occur
Educate Governments, Businesses & The Public
Act To Prevent Future Casualties, Destruction & Disruption
Act To Reduce Costs Of Recovery
Examples Of Mitigation In Action
You may modify police buildings, implement erosion and sediment control around hospitals, or develop flood level maps. Your fire department might create and distribute wildfire safety information to the public that lists evacuation routes and shelter locations, for example.
Helping You Manage All Types Of Emergencies
Floods, fires, terrorism, pandemics — first response is about being prepared for anything. We hope this summary of emergency management principles helps your first response teams find a starting point for these preparations. We invite you to contact us at American Trade Mark to learn more about our mobile incident command systems and customized accountability tags.