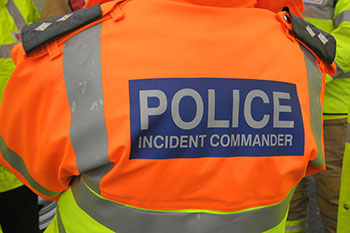 At American Trade Mark, we offer law enforcement incident command boards for police and other agencies to help control the chaos of each and every command post. The Incident Commander can regain clarity of the situation by creating an organized team using our inventory of incident command boards designed for emergencies ranging from hostage situations to active shootings and even HazMat scenes. We offer a wide range of incident management products, all of which can be customized to fit the needs of your particular state, federal, or local law enforcement agency as well as military units and specialized groups. Some options to choose from would include:
Accountability Command Boards For Law Enforcement
Having the proper incident command equipment can literally mean the difference between life and death in an emergency situation. Our command boards are designed to be a scene safety tool with many purposes. Created for specialized law enforcement groups, state and county police, and military operations, The Steel Commander enables the IC to complete Personnel Accountability Reports efficiently with a custom made dry erase tactical worksheet that provides a concise way to monitor tactics and account for all personnel. The Case Commander Incident Command System is also used by many Incident Commanders due to the portability of the unit and the fact that it can be positioned at the best view of the scene.
Incident Command Boards For Specialized Operations
The Case Commander Incident Command System – Passport Addition is portable and designed for specialized operations such as SWAT, search and rescue, hostage negotiation, or military tactics. A mobile incident command post, this board gives the IC the ability to collect passports and keep track of the location of all personnel. It includes two tactical command worksheets mounted in a weatherproof case with built-in legs and a tag storage box. The Incident Commander is able to easily manage simple to complex emergency situations while facilitating the tracking of resources and assignments using color-coded magnets. Another option for streamlining the operations of specialized law enforcement groups would be the Dashboard Commander Incident Command System which gives the IC the ability to effectively manage emergency scenes while never leaving their vehicle.
Customized Law Enforcement Command Boards Available
At American Trade Mark, we only offer the highest quality incident command boards for law enforcement agencies and specialized groups. The top-quality incident management systems provide an efficient way to organize a scene and account for the safety of all personnel involved. Contact us today to learn more about our customizable options and other scene-safety products.