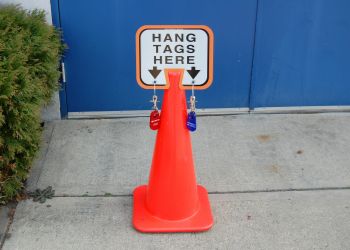 Crew-based accountability is essential for firefighters to do their job successfully, and accountability tags and command boards are vital essentials for any department. The accountability cycle plays the most significant role in proactively supporting the survivability rate of civilians and firefighters in the line of fire. American Trade Mark provides some examples of blazing technology transforming the life-saving efforts of event responders while promoting fire safety.
Firefighter Tags Improve Accountability
A well-implemented firefighter accountability system is primarily designed to protect department members. Firefighters are trained to 'tag in' using their assigned tag with a Safety or Sector Officer upon arrival and then 'tag out' after safe departure from the scene. Vital information can be quickly obtained from these tags when used with a command board.
How Many Firefighters Are On-Scene
Team's Levels Of Qualification
What Apparatus They Arrived On
What Equipment Firefighters Took
Where Crew Members Are Located
How Long Team Members Are Using Oxygen
Incident Command Boards Organize Emergency Management
These boards are widely used within the first responder sector and help commanders, EMS, and other assisting departments keep up with what's going on under duress. When properly used, firefighter command boards can do more than keep up with tags and transfer information. Here are a few benefits of using an incident command board for more effective emergency management.
Facilitates Transfer Of Command
Enhances Responders' Accountability With Location Tracking
Improved Response Times & Outcomes
Enhances Real-Time Decision Making
Improves Coordination Of Multiple Agencies On Site
Tracks Resources, Equipment & Personnel
Decreases Confusion
Speeds Up Response Times
How Accountability Affects Fire Safety At All Levels
The Commander takes a strategic role by tracking all crews and sector locations on a tactical worksheet. Command should know who's in charge of each sector and the crew's assignment. Sector officers address tactical accountability by tracking and supervising teams within their assigned sector. This enhances safety on the site and helps keep everyone accounted for.
Potential Pitfalls Of Accountability Aids
The only real drawback to these tools is that they require routine maintenance and care. Batteries in command board setups must be charged, and backup battery packs should be on hand for major fires that can take hours or days to extinguish. Tags and other parts of the accountability kit will occasionally need to be reformatted, reprogrammed, and synchronized.
Increase Success & Safety With Our Accountability Tools
Together, tags and command systems can efficiently track firefighter crews and equipment on response calls. Make your department safer and more effective with tags, decals, plates, and command stations from American Trade Mark to maintain high accountability standards. Contact us today to create a custom order.