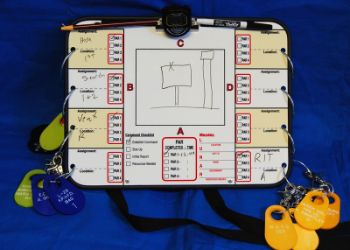 While training to send and receive mayday calls is part of every firefighter trainee's education, continuing that training throughout one's career is crucial. Here are six quick tips from American Trade Mark to help your crews stay safe and improve response time when someone becomes trapped.
Integrate Mayday Training During Regular Shifts
Use LUNAR Early & Often
Listen And Repeat
Change Up Routine Radio Checks
Practice With Breathing Apparatus
Review Use Of Accountability Passport
1. Build Muscle Memory With Regular Mayday Training
Preparing to use the mayday call requires more than a day or week of review with your trainees at the academy. During an incident, your firefighters must be able to hit the SCBA alarm, hit the radio button, and remember to breathe. This will only happen through multiple repetitions. Include a mayday review as part of your regular firehouse duties.
2. Use LUNAR During Daily Drills
The best way for crews to assist a trapped firefighter is to receive the correct information. Have your crews call out their LUNAR throughout the day, whether you are training or catching up on cleaning. When they use all the required information every time, it will become a habit when faced with an emergency.
Location
Unit
Name
Air Supply
Resources
3. Learn To Listen For Response From IC
When your adrenaline is pumping, listening for directions from incident command can be difficult. Practice taking a deep breath after talking on the radio so trainees become accustomed to listening for an answer before they call out again.
4. Smaller Departments Need To Do More Radio Checks
While full-time departments do a daily radio check with each shift change, smaller volunteer departments may only check their gear once a week. Using the portables during routine maintenance shifts will help newer fighters get used to their function and build the muscle memory needed to press the button during an intense situation. Veterans will benefit from some refresher time with their gear, too.
5. Use Breathing Apparatus During Radio Drills
Even during an uneventful call, you may find it hard to hear one another through face masks. Set up a mayday safety training session at the house where you use the radios, with full apparatus on and in use. They will learn that you need to speak slowly and clearly in order to be heard.
6. Ensure Accountability Systems Are Always In Use
At the incident command level, knowing where all your units are deployed will help to speed up an effective response to a mayday call. For smaller departments, introducing an incident command board will help you to track additional units that arrive on the scene.
Order Your Command Board From American Trade Mark Co.
Whether you need an accountability system designed for a rural volunteer department or a large city fire department, you can find one sized to suit your needs at American Trade Mark. Give us a click or call today for more information.