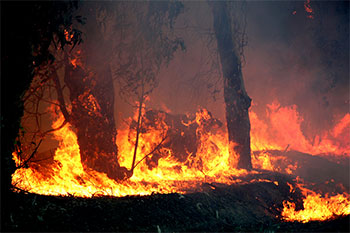 At American Trade Mark, we serve nationwide as a leading manufacturer of wildland fire safety products. We specialized in incident command and accountability systems. Each product is designed to keep your wildland firefighters safe.
Improving Wildland Firefighting
Monitoring a fire scene is complicated at the best of times. These complications increase in the case of Wildland fires. Our products are designed to keep track of firefighters, known firefighter hazards and maintain fire scene safety. To further meet the needs of your fire department, our product can also be customized for your particular use. Just some of our products include
Economy Number Only Accountability Tags
Custom Accountability Tags
Passport Name Strips
Case Commander® Incident Command Systems
Dashboard Incident Command Systems
Custom Incident Command Boards
Durable Equipment Marker Decals
Custom Printed Reflective Car Plates
Enhanced Fire Scene Control
These products and systems are designed to alleviate complication and meet the needs of the individual by offering high-quality, low-tech, portable, reliable, and affordable solutions on wildland fire scenes. These firefighter safety products are capable of performing their roles without the guarantee of a reliable Wi-Fi source and in the remotest of locations.
Keeping The Information Straight
Knowing the whereabouts of your fire crew is a priority in wildland firefighting. Combining an incident command system with our other accountability products lets an incident commander have greater control over the safety of their people and equipment on a scene. This also gives you a better chance to minimize wildland firefighter injuries.
When Firefighter Safety Is The Priority
The dangers to the men trying to control a wildland fire can have nothing to do with the flames. Often, during prolonged periods of exhausting work, fatigue sets in. Our systems take some of the guesswork out of tracking your wildland firefighter. This assists in safety by keeping rest breaks well followed, monitoring each unit to help prevent fatigue, and moving nearby personnel from areas of high danger when necessary.
Don't Lose Expensive Firefighting Gear
Our durable equipment marker decals make locating tools and toolboxes easier on low visibility, high wear and tear wildland firefighting scenes. Often, multiple departments work closely together to battle a blaze and sometimes equipment can be mixed up in the process of putting out a wildfire. Potentially keeping equipment or tools from getting mixed in with other departments will quickly save you money.
Keep Your Wildland Firefighters Safe
Each of our products serves a purpose in keeping firefighters safe and making sure your wildland firefighting operation is running smoothly. Contact us at American Trade Mark to discuss what wildland firefighter gear best fits your needs and place your order today.