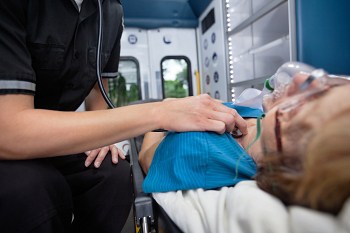 American Trade Mark is committed to helping keep our first responders nationwide safe and secure during these difficult and troubling times. One of the most critical elements of safety during a worldwide pandemic is universal management systems that allow each department to work together while simultaneously keeping one another safe.
In order to slow the spread of a viral outbreak, clear fireground communications and incident command responsibilities have become more imperative than ever before.
Fighting Infectious Disease
Keeping our first responders and healthcare workers protected on the job requires an uncompromising and unified response by all laborers in the field, bringing about the need for clear organizational management and safety policies. This is especially true while we are in the midst of an unprecedented modern epidemic, like COVID-19.
This may be a daunting process, particularly when the system is under a significant strain by an ongoing crisis. That's why it is worthwhile to consider organizational tools such as incident command boards and personnel accountability tracking to streamline the process so that you can remain focused on first responder safety and patient care.
Staying Safe On The Job?
EMS and first responder safety are continually evolving in the middle of the outbreak of an incredibly contagious virus. Their jobs do not begin and end with patient care alone. These brave heroes that are protecting public health and safety interests are forced to learn on the fly and adjust their safety procedures while still maintaining an overall cohesion among various departments.
This requires frequent and intense crash courses by department heads, as well as mindful coordination. There are, however, various standard operating procedures for safety that continue to remain valid, according to the EMS Infectious Disease Playbook:
Stay abreast of any community-based outbreaks and any special precautions needed, as indicated.
Assure any appropriate training & education on personal protective equipment (PPE), safety protocols & patient management are being upheld.
Adjust infection prevention precautions as required based on symptoms.
Maintain strict adherence to standard safety precautions as set forth by department head guidelines and training.
Perform proper and frequent hand hygiene before and after all patient contact and care.
Take all proper precautions when removing and disposing of personal protective equipment and medical supplies.
Take extra care in cleaning & disinfecting all contaminated surfaces, vehicles, and equipment.
Maintain honest and frequent communication with co-workers, other first responders, and the appropriate local public health authorities. Communication is key.
Vigilant and precise documentation guidelines should be followed to avoid the spread of contamination.
Be conscious of appropriate points of contact for each partnered department, and be ready to utilize them safely.
Simplifying Crisis & Outbreak Management
We at American Trade Mark are our first responders' biggest cheerleaders and supporters nationwide. We want to make sure that each of our nation's champions can return home safely to their loved ones at the end of each shift.
To do this, we absolutely cannot cut corners. We also must be willing to learn and grow, just as our frontline workers must do each day. This dedication to their wellbeing has allowed us to conceptualize products and ideas that will take some of the weight from their shoulders as they put their lives on the line every day to make sure we remain safe.
Get The Tools You Need To Keep Communicating
We look forward to assisting our country's first responders in facilitating rigorous organizational procedures with easy-to-use and adapt tracking and incident command products. Please don't hesitate to contact us at American Trade Mark today to place your order and bolster your ever-evolving systems.